E-book
Investing in an Uncertain Economy For Dummies
ISBN: 978-0-470-44299-9
384 pages
November 2008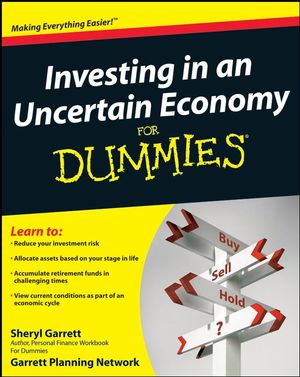 Investing in an Uncertain Economy For Dummies provides investors with focused, individualized investment strategies that enable them to conquer indecision and protect and strengthen their current financial holdings. With advice from 200 top independent financial advisors, empowered readers can make effective asset allocation decisions in the face of volatile markets.
See More
Introduction.
Part I: Laying a Solid Foundation.
Part II: Using Investment Vehicles and Accounts throughout the Economic Cycle.
Part III: Demystifying Risk: Accumulating and Protecting Wealth.
Part IV: Investing for Accumulators.
Part V: Heading into Retirement.
Part VI: Living on Your Investment Earnings and Drawing Down Your Assets.
Part VII: The Part of Tens.
Index.
See More
Sheryl Garrett is founder of the Garrett Planning Network, an international network of financial advisors who offer their services on an hourly, as-needed basis. In 2003, 2004, 2005, and 2006, Investment Advisor magazine named Garrett one of the Top 25 Most Influential People in the Financial Planning industry.
See More