Social Intelligence: The New Science of Success
ISBN: 978-0-470-44434-4
304 pages
February 2009, Pfeiffer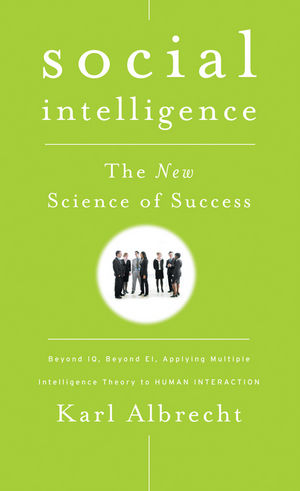 Karl Albrecht defines social intelligence (SI) as the ability to get along well with others while winning their cooperation. SI is a combination of sensitivity to the needs and interests of others, sometimes called your "social radar," an attitude of generosity and consideration, and a set of practical skills for interacting successfully with people in any setting. Social Intelligence provides a highly accessible and comprehensive model for describing, assessing, and developing social intelligence at a personal level. This book is filled with intriguing concepts, enlightening examples, stories, cases, situational strategies, and a self-assessment tool – all designed to help you learn to navigate social situations more successfully.
See More
Foreword vii
Acknowledgment ix
Preface xi
1. A Different Kind of "Smart" 1
Old Wine in New Bottles? 3
Going Beyond IQ 6
EI, SI, or Both? 10
From Toxic to Nourishing 12
Blind Spots, Lenses, and Filters 14
Social Halitosis, Flatulence, and Dandruff 16
The "Dilbert" Factor 23
Can We Become a Socially Smarter Species? 25
S.P.A.C.E.:The Skills of Interaction 28
2. "S" Stands for Situational Awareness 33
Situational Dumbness and Numbness 34
Ballistic Podiatry: Making the Worst of a Situation 36
Reading the Social Context 38
What to Look For 40
The Proxemic Context 41
The Behavioral Context 47
The Semantic Context 51
Navigating Cultures and Subcultures 58
Codes of Conduct: Violate the Rules at Your Peril 61
Building the Skills of Situational Awareness 66
3. "P" Stands for Presence 69
Being There 70
Is Charisma Over-Rated? 72
Do Looks Matter? 75
Reading (and Shaping) the "Rules of Engagement" 75
The Ugly American Syndrome 78
More of You, Less of Me 80
A Case of Attitude 82
Building the Skills of Presence 85
4. "A" Stands for Authenticity 87
Take a Tip from Popeye 88
It's a Beautiful Day in the SI Neighborhood 90
The Snap-On Smile: Can You Fake Sincerity? 93
Left-Handed Compliments 94
The Puppy Dog Syndrome 97
Narcissism: It's Really All About Me 98
Head Games, Power Struggles, and Manipulation 102
Building the Skills of Authenticity 105
5. "C" Stands for Clarity 107
A Way with Words 108
Hoof-in-Mouth Disease: Sometimes Silence Works Best 110
Role-Speak and Real-Speak 114
Helicopter Language and Elevator Speeches 116
"Clean" Language and "Dirty" Language 119
Verbal Bludgeons 121
Taking a Brain for a Walk 125
The Power of Metaphor 128
E-Prime: the Language of Sanity 130
Building the Skills of Clarity 135
6. "E" Stands for Empathy 137
What Destroys Empathy? 138
What Builds Empathy? 142
The Platinum Rule 147
The Irony of Empathic Professions 149
L.E.A.P.S.: Empathy by Design 152
Empathy in Four Minutes 154
Building the Skills of Empathy 156
7. Assessing and Developing SI 159
AssessingYour Interaction Skills 160
Self-Awareness: Seeing Yourself as Others See You 166
Assessing Your Interaction Style: Drivers, Energizers, Diplomats, and Loners 168
The Strength-Weakness Irony 177
Priorities for Improvement 180
8. SI in the World of Work: Some Reflections 185
The Real and Legal Consequences of Social Incompetence 184
Cultures of Conflict and Craziness 187
Hierarchies,Testosterone, and Gender Politics 193
Getting it Right at Work and Wrong at Home 198
The Diversity Puzzle 200
Ritual, Ceremony, and Celebration 203
Positive Politics: Getting Ahead with Your Value System Intact 207
9. SI in Charge: Thoughts on Developing Socially Intelligent Leaders 211
The S.O.B. Factor 212
Executive Hubris: Its Costs and Consequences 216
Best Boss,Worst Boss 219
P.O.W.E.R.:Where It Comes From, How to Get It 222
How the Worst Bastards on the Planet Get and Keep Power 224
The Algebra of Influence 226
S.P.I.C.E.: Leading When You're Not In Charge 227
10. SI and Conflict: Thoughts About Getting Along 233
The Double Spiral of Conflict 234
Why Argue? 241
Crucial Conversations 243
Added Value Negotiating 246
Epilogue. SI and the Next Generation: Who's Teaching Our Kids? 253
Our Children Are Not Our Children 254
The (Only) Ten Basic News Stories 256
Anxiety Drives Attention 260
Breaking the Addiction to Television 262
The Buying of Our Babies 265
Video Games:The New Sandlot 267
Teachers, Parents, or Neither? 270
Belonging or Be Longing? 272
The S.P.A.C.E. Solution for Schools 276
A Prescription for SI at Every Age 278
Index 281
About the Author 289
See More
Dr. Karl Albrecht
is a management consultant, executive advisor, futurist, researcher, speaker, and prolific author. In his twenty-five-year career he has worked with many kinds of businesses, government, and nonprofit organizations in a wide range of industries world-wide. He has consulted with senior executives and lectured to conferences on all inhabited continents. He is the author of more than twenty books on various aspects of individual and business performance, including
Brain Power: Learn to Improve Your Thinking Skills
;
The Northbound Train: Finding the Purpose, Setting the Direction, Shaping the Destiny of Your Organization
;
The Power of Minds at Work: Organizational Intelligence in Action
; and co-author of the best-selling
Service America!: Doing Business in the New Economy,
widely credited with launching the "customer revolution" in the U.S. and abroad, which has sold over a half-million copies in seven languages.
He devotes much of his effort to finding and developing promising new concepts for both organizational and individual effectiveness. His research and development activities have spanned a wide range of issues, from individual creativity all the way to corporate strategic vision. He is widely regarded as a key thought leader in the field of emerging strategic business issues. He can be contacted at www.KarlAlbrecht.com.
See More