Staging to Sell: The Secret to Selling Homes in a Down Market
ISBN: 978-0-470-44712-3
288 pages
June 2009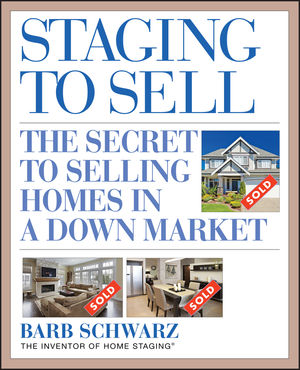 Home staging strategies needed to succeed in a down market
Whether a buyer, seller, or real estate agent, the home selling and purchasing process is fraught with potholes that can usually be overcome. But in this weakened housing market, everyone involved in the selling process must increase their efforts. In order to sell homes at top dollar, houses must be "prepared for sales." That's where Staging comes in. The real estate mantra is no longer location, location, location. It is now Staging, Staging, Staging! It's all about presentation. In Staging to Sell, Barb Schwarz, The Creator of Home Staging®, offers her winning tactics, secrets, and strategies for selling a home at top dollar during these challenging times. In addition to offering specific tips on how to Stage a home, Schwarz, a sought-after speaker and Real Estate broker who has Staged and sold over 5,000 homes, provides readers, sellers, Realtors® and Stagers, with useful advice on correctly pricing properties, marketing properties so that they sell, addressing objections early on, having the seller handle the Staging before the house is viewed, and much more. Written with today's turbulent real estate market in mind, Staging to Sell contains the information readers need to get their homes Sold in the market quickly for top dollar.
See More
Preface.
Acknowledgments.
CHAPTER 1 Get Set, Go!
CHAPTER 2 The Let-Me-Tell-You-How-I-Work Approach.
CHAPTER 3 Step 1: Meeting Together the First Time.
CHAPTER 4 The Career Book: The Key to Your Credibility.
CHAPTER 5 Prospecting and Uses of the Career Book.
CHAPTER 6 Step 2: The Exclusive Detailed Report.
CHAPTER 7 The Marketing Portfolio.
CHAPTER 8 Recipe for a Sale: Pricing the Property Right.
CHAPTER 9 The Pricing-Your-Home Triangle.
CHAPTER 10 Staging the Property: The Outside Story.
CHAPTER 11 Staging the Property: The Inside Story.
CHAPTER 12 Staging Completion.
CHAPTER 13 Stage Your Life and Work, Too!
CHAPTER 14 Your Journey Toward Success.
CHAPTER 15 The S Factor: Staging Success Stories from ASPs and Their Sellers in the Field.
Appendix: Barb's Real Estate Words and Tools That Will Work for You!
A Brief History of Staging and the Stage Trademark.
Index.
See More
Barb Schwarz is known as The Creator of Home Staging®, which has become increasingly important as the housing market has suffered declines over the past few years. She writes frequently on real estate and Staging and contributes articles to a variety of publications on real estate topics. Schwarz has appeared on numerous national television programs and is regularly a keynote speaker at the National Association of REALTORS®' National Conference. Barb has been featured on ABC's 20/20, NBC's Today show, CBS Evening News, PBS, Fox News, and numerous magazines and newspapers. She is also the author of the Wiley titles Home Staging: The Winning Way to Sell Your House for More Money and NBC's Building a Successful Home Staging Business.
See More