Civic Revolutionaries: Igniting the Passion for Change in America's Communities
ISBN: 978-0-470-44764-2
288 pages
October 2003, Jossey-Bass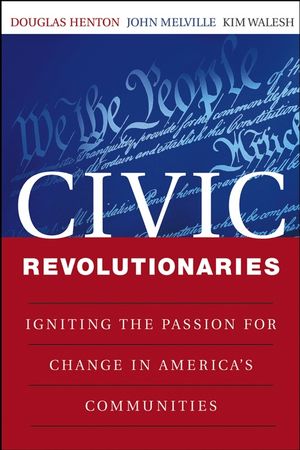 Civic Revolutionaries
offers a practical guide for renewing the great American tradition of spirited, breakthrough community leadership. By their very nature, revolutionary leaders help their communities reconcile the competing values on which our nation was built: individualism and community, freedom and responsibility, trust and accountability, economy and society. Like the Founders, today's civic revolutionaries are extraordinary leaders who are deeply committed to place, not just to specific issues or constituencies. They provide the vital spark, inspiring others who must ultimately own the revolution if it is to be successful. Written for leaders in business, government, education, and community,
Civic Revolutionaries
features practical guidance and in-depth case studies from communities across the country. The book provides tested advice to both new and seasoned leaders and draws essential lessons from the American revolutionary tradition to demonstrate how to become an effective leader within the community.
Read a Charity Channel review:
See More
Dedication ix
Foreword xi
Becky Morgan
Acknowledgments xiii
The Authors xvii
Introduction: The Creative Tensions of the Continuing American Experiment 1
1. Individual and Community: Creating Common Purpose 21
2. Trust and Accountability: Building Webs of Responsibility 59
3. Economy and Society: Strengthening the Vital Cycle 89
4. People and Place: Making the Creative Connection 127
5. Change and Continuity: Creating Vigilance for Renewal 157
6. Idealism and Pragmatism: Building Resilience of Place 197
7. The Rise of the New Civic Revolutionaries:
Answering the Call to Stewardship 231
References 245
Index 251
See More
Douglas Henton, John Melville, and Kim Walesh are principals in Collaborative Economics (http://www.coecon.com), a firm based in Mountain View, California, that forges linkage between local governments, businesses, and nonprofits to promote successful communities. They are also the authors of Grassroots Leaders for a New Economy, published by Jossey-Bass.
See More