College Men and Masculinities: Theory, Research, and Implications for Practice
ISBN: 978-0-470-44842-7
616 pages
March 2010, Jossey-Bass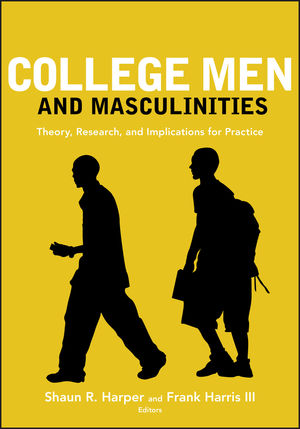 Recently, noticeable problematic issues based on identity-related challenges among college men have begun to receive national attention. Men in College and Masculinities provides the best research and literature on college men, including original synthesis and implications for practice, as well as topics on race, class, and gender in higher education. The book presents a solid analysis and ideas for practical application in every section to aid faculty, staff, and administrators on improving their campuses by reversing problematic trends and outcomes among male undergraduates.
See More
List of Tables and Figures.
Preface.
About the Editors.
Advisory Board.
Credits.
1 Beyond the Model Gender Majority Myth: Responding Equitably to the Developmental Needs and Challenges of College Men (Shaun R. Harper and Frank Harris III).
Part One: Identity Development and Gender Socialization.
Introduction.
2 Masculinity as Homophobia: Fear, Shame, and Silence in the Construction of Gender Identity (Michael S. Kimmel).
3 Gender-Role Conflict Scale: College Men's Fear of Femininity (James M. O'Neil, Barbara J. Helms, Robert K. Gable, Laurence David, and Lawrence S. Wrightsman).
4 Voices of Gender Role Conflict: The Social Construction of College Men's Identity (Tracy L. Davis).
5 Masculinities Go to Community College: Understanding Male Identity Socialization and Gender Role Conflict (Frank Harris III and Shaun R. Harper).
6 Masculinity Scripts, Presenting Concerns, and Help Seeking: Implications for Practice and Training (James R. Mahalik, Glenn E. Good, and Matt Englar-Carlson).
Implications for Educational Practice.
Part Two: Sexualities and Sexual Orientations.
Introduction.
7 Which Way Out? A Typology of Non-Heterosexual Male Collegiate Identities (Patrick Dilley).
8 African American Gay Men: Another Challenge for the Academy (Jamie Washington and Vernon A. Wall).
9 Making Men in Gay Fraternities: Resisting and Reproducing Multiple Dimensions of Hegemonic Masculinity (King-To Yeung, Mindy Stombler, and Reneé Wharton).
10 Construction of Male Sexuality and Gender Roles in Puerto Rican Heterosexual College Students (David Pérez-Jiménez, Ineke Cunningham, Irma Serrano-García, and Blanca Ortiz-Torres).
11 Pornography, Sexual Socialization, and Satisfaction Among Young Men (Aleksandar Štulhofer, Vesna Buško, and Ivan Landripet).
Implications for Educational Practice.
Part Three: College Men Behaving Badly.
Introduction.
12 A Theoretical Model to Explain the Overrepresentation of College Men Among Campus Judicial Offenders: Implications for Campus Administrators (Shaun R. Harper, Frank Harris III, and Kenechukwu (K. C.) Mmeje).
13 Why College Men Drink: Alcohol, Adventure, and the Paradox of Masculinity (Rocco L. Capraro).
14 Whales Tales, Dog Piles, and Beer Goggles: An Ethnographic Case Study of Fraternity Life (Robert A. Rhoads).
15 Toward a Transformed Approach to Prevention: Breaking the Link Between Masculinity and Violence (Luoluo Hong).
Implications for Educational Practice.
Part Four: College Men's Health and Wellness.
Introduction.
16 Constructions of Masculinity and Their Influence on Men's Well-Being: A Theory of Gender and Health (Will H. Courtenay).
17 Mags and Abs: Media Consumption and Bodily Concerns in Men (Ida Jodette Hatoum and Deborah Belle).
18 Effects of Alcohol, Expectancies, and Partner Type on Condom Use in College Males: Event-Level Analyses (Joseph LaBrie, Mitch Earleywine, Jason Schiffman, Eric Pedersen, and Charles Marriot).
19 Exploring the Health Behavior Disparities of Gay Men in the United States: Comparing Gay Male University Students to Their Heterosexual Peers (Scott D. Rhodes, Thomas McCoy, Kenneth C. Hergenrather, Morrow R. Omli, and Robert H. DuRant).
Implications for Educational Practice.
Part Five: College Men of Color.
Introduction
20 Factors Influencing the Ethnic Identity Development of Latino Fraternity Members at a Hispanic Serving Institution (Juan R. Guardia and Nancy J. Evans).
21 Exploring the Lives of Asian American Men: Racial Identity, Male Role Norms, Gender Role Conflict, and Prejudicial Attitudes (William M. Liu).
22 Peer Support for African American Male College Achievement: Beyond Internalized Racism and the Burden of "Acting White" (Shaun R. Harper).
23 Expressions of Spirituality Among African American College Males (Michael K. Herndon).
Implications for Educational Practice.
Part Six: College Men and Sports.
Introduction.
24 Stigma Management Through Participation in Sport and Physical Activity: Experiences of Male College Students with Physical Disabilities (Diane E. Taub, Elaine M. Blinde, and Kimberly R. Greer).
25 Race, Interest Convergence, and Transfer Outcomes for Black Male Student-Athletes at Community Colleges (Shaun R. Harper).
26 Used Goods: Former African American College Student-Athletes' Perceptions of Exploitation by Division I Universities (Krystal K. Beamon).
27 Social Justice and Men's Interests: The Case of Title IX (Michael A. Messner and Nancy M. Solomon).
28 Reconstructing Masculinity in the Locker Room: The Mentors in Violence Prevention Project (Jackson Katz).
Implications for Educational Practice.
Name Index.
Subject Index.
See More
Shaun R. Harper is assistant professor of higher education at the University of Pennsylvania, Graduate School of Education.
Frank Harris III is assistant professor of postsecondary educational leadership and student affairs at San Diego State University.
See More
Learn more about