E-book
JK Lasser's Guide for Tough Times: Tax and Financial Solutions to See You Through
ISBN: 978-0-470-44910-3
256 pages
December 2008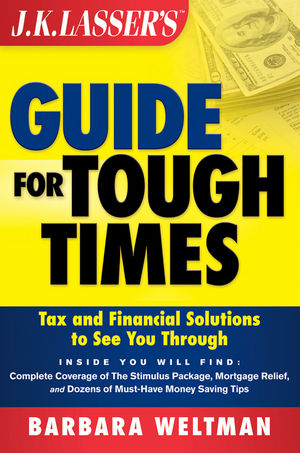 While you may be concerned about the current state of the economy, there are things you can do to improve your situation, and J.K. Lasser's Guide for Tough Times will show you exactly what they are. Filled with in-depth insights and expert advice, this practical guide details the essential strategies that will see you through the current market, and help you handle several key aspects of your personal and financial life, including: recovering from losing a job, dealing with tapped out home equity, and tackling credit card debt.
See More
Acknowledgments.
Introduction.
1. Challenges in Today's Economy.
2. Managing Your Home.
3. Investment Choices Today.
4. Handling Investment Losses.
5. Meeting Everyday Needs.
6. Handling Education Costs.
7. Mishaps, Disasters, and Catastrophes.
8. Problems with Your Job.
9. Handling Business Losses.
10. Serious Medical Issues.
11. Family Breakups.
12. Hard-Learned Lessons.
Glossary.
Index.
See More
Barbara Weltman, an attorney, is a nationally recognized expert in taxation for small businesses and is a top-selling author of books on tax and finance, including J.K.Lasser's 1001 Deductions and Tax Breaks. Weltman has also been featured in many media outlets, including the Wall Street Journal, Inc.com, Bloomberg TV, CNN, and CNBC and is host of her own radio show, Build Your Business. Visit her at www.barbaraweltman.com.
See More