MCTS: Windows Server Virtualization Configuration Study Guide: Exam 70-652
ISBN: 978-0-470-44930-1
432 pages
June 2009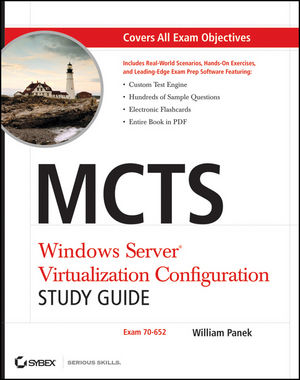 The MCTS is Windows Server Virtualization Configuring exam, and is Microsoft's newest addition to their exam repertoire and tests candidates' ability to use Hyper-V and server virtualization as part of their network infrastructure solution. The exam targets IT professionals who are looking to enhance their skills and distinguish themselves from the rest of the pack. This guide reviews the tasks that are mandatory for candidates to know: installing Hyper-V, configuring and optimizing Hyper-V, deploying virtual machines, and managing and monitoring virtual machines. The CD-ROM contains coverage of the exam objectives, real-world scenarios, hands-on exercises, and challenging review questions.
Note: CD-ROM/DVD and other supplementary materials are not included as part of eBook file.
For Instructors: Teaching supplements are available for this title.
See More
Introduction xxi
Assessment Exam xxxiii
Chapter 1 Hyper-V Overview 1
Introducing Hyper-V 2
Hyper-V Benefits 3
Hyper-V Features 4
Microsoft Networking Models 5
Windows Peer-to-Peer Network 5
Windows Server 2008 Active Directory Network 7
Microsoft Networking Terms and Roles 9
Understanding Windows Server 2008 11
New Features of Windows Server 2008 11
Requirements for Windows Server 2008 Installation 15
Activating and Installing Windows Server 2008 16
Summary 21
Exam Essentials 21
Review Questions 23
Answers to Review Questions 27
Chapter 2 Installing Hyper-V 29
Evaluating Your Network 30
Microsoft Assessment and Planning Tool 31
Installing Hyper-V 41
Hyper-V Hardware Requirements 42
Installing Hyper-V on a Windows Server 2008 Full Installation 43
Installing Hyper-V on a Windows Server 2008 Server Core 49
Hyper-V with Virtual Machine Manager 56
Summary 57
Exam Essentials 58
Review Questions 59
Answers to Review Questions 64
Chapter 3 Configuring Hyper-V 67
Understanding the Configuration Tools and Techniques 68
Understanding Virtual Hard Disks 69
Using Pass-Through Disk Access 72
Configuring Virtual Machine Snapshots 73
Configuring Hyper-V Server Settings 76
Using Authorization Manager 82
Introducing System Center Virtual Machine Manager 89
Configuring Virtual Networking 98
Configuring Remote Administration 102
Summary 105
Exam Essentials 106
Review Questions 108
Answers to Review Questions 113
Chapter 4 Creating Virtual Machines 115
Creating Virtual Disks 116
Creating Virtual Machines 123
System Preparation (Sysprep) Tool 129
Windows Deployment Service (WDS) 132
Configuring the System Center Virtual Machine
Manager (SCVMM) 2008 136
Summary 151
Exam Essentials 152
Review Questions 153
Answers to Review Questions 158
Chapter 5 Migrating and Converting Virtual Machines 161
Using Physical-to-Virtual (P2V) Conversion 162
P2V Conversions Using SCVMM 163
Using Virtual-to-Virtual (V2V) Conversion 171
Converting Virtual Machines from Virtual Server and Virtual PC 177
Understanding Integration Services 178
Understanding Virtual PC 187
Migrating Microsoft Virtual Server 190
Microsoft Assessment and Planning Toolkit 193
Summary 194
Exam Essentials 194
Review Questions 196
Answers to Review Questions 201
Chapter 6 Managing Virtual Machines 203
Managing Virtual Machine Settings 204
Configuring Virtual Machines with SCVMM 205
Configuring Virtual Machine Properties 207
Configuring Hyper-V Host Properties 220
HyperCall Adapter 227
Managing Templates, Profiles, and the Image Library 227
Creating and Managing Templates 228
Creating Image Libraries 231
Summary 237
Exam Essentials 238
Review Questions 239
Answers to Review Questions 244
Chapter 7 Configuring Hyper-V for High Availability 247
Configuring Hyper-V to Be Highly Available 248
Understanding RAID 250
Disk Storage Types 251
Understanding the Disk Management MMC 253
Configuring Failover Clustering 260
Failover Cluster Management 261
Configuring Quorums 269
Understanding Quick Migration 273
Summary 276
Exam Essentials 277
Review Questions 278
Answers to Review Questions 283
Chapter 8 Backing Up and Restoring VMs 285
Monitoring and Optimizing Virtual Machines 286
Reliability and Performance Monitor 286
Understanding Backups and Recoverability 296
Configuring Backup Types 297
Using Windows Server 2008 Backup 301
Understanding the Data Protection Manager 312
Summary 318
Exam Essentials 319
Review Questions 320
Answers to Review Questions 325
Appendix A Extra Labs and Exam Questions 327
Setting Up a Virtual Network 328
Extra Review Questions 354
Answers to Extra Review Questions 357
Appendix B About the Companion CD 359
What You'll Find on the CD 360
Sybex Test Engine 360
PDF of Glossary of Terms 360
Adobe Reader 360
Electronic Flashcards 361
System Requirements 361
Using the CD 361
Troubleshooting 361
Customer Care 362
Glossary 363
Index 369
See More
William Panek, MCTS, MCITP, MCT, CCNA, CHFI, is founder of Stellacon Corporation, a Microsoft Certified Gold Partner and a Certified Learning Solutions Provider and leading training provider on the East Coast. Prior to founding Stellacon, William was an instructor for The Training Associates, instructing at such schools as Boston University, Clark University, and New Horizons, among others. He is the author of MCTS: Windows Server 2008 Active Directory Configuration Study Guide and MCTS: Windows Server 2008 Network Infrastructure Configuration Study Guide, both by Sybex.
See More
Learn more about