Mastering Microsoft Virtualization
ISBN: 978-0-470-44958-5
576 pages
December 2009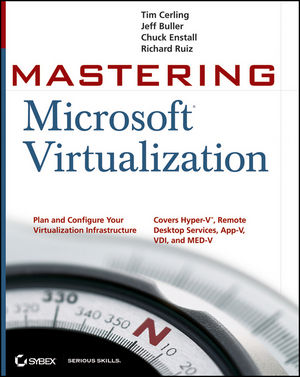 The first in-depth, comprehensive guide to Microsoft's suite of virtualization products
Virtualization is a hot topic for IT because of the potential it offers for serious economic benefits. While other books treat server virtualization alone, this comprehensive guide provides a complete virtual strategy.
You will learn how to deploy a complete virtualization stack with Microsoft's offerings in server virtualization, application virtualization, presentation virtualization, and desktop virtualization. Written by Microsoft technology product specialists, this guide provides real-world focus, enabling you to create a complete IT system that is highly efficient and cost effective.
Covers Windows Server 2008 Hyper-V 2.0, Remote Desktop Services, Microsoft Application Virtualization (App-V), Virtual Desktop Infrastructure (VDI), and Microsoft Enterprise Desktop Virtualization (MED-V)
Demonstrates how to deploy a virtual infrastructure-from the server to the desktop
Goes beyond any other book on Microsoft virtualization
Covers the highly anticipated new feature Live Migration
This guide, part of the popular Sybex Mastering series, offers every IT administrator a road map for implementing an efficient and successful virtualization project.
See More
Introduction xvii
Part 1 Hyper-V 1
Chapter 1 UnderstandingMicrosoft's Hypervisor 3
Chapter 2 Installing, Configuring, and Managing the Hyper-V Host 29
Chapter 3 Creating and Managing Virtual Machines 77
Chapter 4 Storage and Networking for Hyper-V 125
Chapter 5 High Availability and Hyper-V 165
Chapter 6 Planning a Virtual Infrastructure with Hyper-V 221
Part 2 Microsoft Application Virtualization 253
Chapter 7 UnderstandingMicrosoft Application Virtualization and Streaming 255
Chapter 8 Creating Virtual Applications 281
Chapter 9 Deploying Virtual Applications 299
Part 3 Remote Desktop Services 313
Chapter 10 Introduction to Remote Desktop Services 315
Chapter 11 Installing and Configuring Remote Desktop Services 327
Chapter 12 Deploying and Accessing Remote Desktop Services 355
Chapter 13 Load Balancing Remote Desktop Services 389
Part 4 Desktop Virtualization 409
Chapter 14 Introducing Microsoft Desktop Virtualization 411
Chapter 15 Deploying Microsoft VDI 443
Chapter 16 Deploying Microsoft Enterprise Desktop Virtualization  477
Appendices 511
Appendix A The Bottom Line 513
Appendix B Microsoft Virtualization Tools and Resources 537
Index 541
See More
Tim Cerling is Sr. Technology Specialist at Microsoft involved with Hyper-V. Jeff Buller is Technology Specialist on Microsoft's virtualization solutions team. Chuck Enstall is a network technology specialist with Microsoft focusing on Remote Desktop Services. Richard Ruiz is a Microsoft virtualization specialist focusing on Virtual Desktop Infrastructure with Hyper-V, Microsoft Enterprise Desktop Virtualization, and Microsoft Application Virtualization.
See More
Learn more about