Mac OS X Snow Leopard Server For Dummies
ISBN: 978-0-470-45036-9
432 pages
November 2009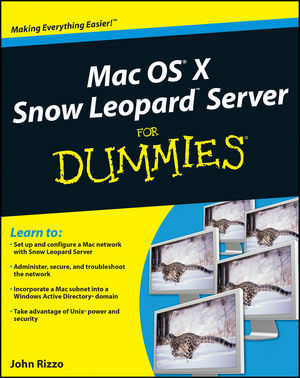 Making Everything Easier!
Mac OS® X Snow Leopard Server for Dummies
Learn to:
Set up and configure a Mac network with Snow Leopard Server

Administer, secure, and troubleshoot the network

Incorporate a Mac subnet into a Windows Active Directory® domain

Take advantage of Unix® power and security
John Rizzo
Want to set up and administer a network even if you don't have an IT department? Read on!
Like everything Mac, Snow Leopard Server was designed to be easy to set up and use. Still, there are so many options and features that this book will save you heaps of time and effort. It walks you through installation, set-up on a virtual machine, directory services, managing clients, security, and everything necessary to keep your users happy.
Choose your hardware — get all the details on the best hardware for your specific needs

It does Windows too — manage Active Directory and Open Directory for a network with both Windows® and Mac® clients

Maintain control — create and maintain your User Directory and authenticate clients

Files, printers, and stuff — set up user categories and permissions, handle file sharing protocols, and configure client machines

Let's get together — help users collaborate with shared contacts and calendars, Podcast Producer, and iChat® instant messaging

The Web world — configure Web services, set up Wiki Server, and enable blogging

Out of the office — create mobile accounts for notebook users and configure VPN access

Safety first — manage security with firewalls, encryption, and proxies
Open the book and find:
Various options for installation

The pros and cons of Dual Boot

How to set up and run an e-mail server

Tips on getting Macs and Windows to share files

How group accounts can simplify management

The advantages of different permission types

How to manage Podcast Producer

Special stuff in Snow Leopard Server
See More
Introduction.
Part I: Getting Snow Leopard Server Up and Running.
Chapter 1: Snow Leopard Server: An Overview.
Chapter 2: Choosing Server Hardware.
Chapter 3: Installation and Setup.
Chapter 4: Running Servers in Virtual Machines.
Part II: Creating and Maintaining User Accounts and Directories.
Chapter 5: Controlling Access with Directories.
Chapter 6: Setting Up Open Directory.
Chapter 7: Integrating Open Directory with Active Directory.
Part III: Serving Up Files and Printers.
Chapter 8: Controlling Access to Files and Folders.
Chapter 9: Setting Up File Sharing.
Chapter 10: Sharing Printers Over a Network.
Part IV: Facilitating User Collaboration.
Chapter 11: Sharing Contacts with Address Book Server.
Chapter 12: Sharing Calendars with iCal Server.
Chapter 13: Hosting Web Sites and Wikis.
Chapter 14: Running an E-Mail Server.
Chapter 15: More Collaboration: iChat and Podcast Producer.
Part V: Managing Clients.
Chapter 16: Managing Client Accounts.
Chapter 17: Creating Mobile Accounts for Notebooks.
Chapter 18: Keeping Your Server Secure.
Part VI: The Part of Tens.
Chapter 19: Ten Things You Can Add to Snow Leopard Server.
Chapter 20: Ten Cool Things That Didn't Make It into the Book.
Index.
See More
John Rizzo (San Francisco, CA) is a computer industry writer and author, veteran editor, columnist, and blogger focusing on Macintosh and cross-platform topics since 1987. Since 1997, he has published MacWindows.com, the web's largest news and information source for Mac and Windows integration issues. John is a frequent speaker and panelist at MacWorld and other trade shows and has taught many Mac classes for Apple. John is on the Board of Trustees for San Francisco Community College where he chairs the technology committee.
See More