Fundraising Principles and Practice
ISBN: 978-0-470-45039-0
688 pages
April 2010, Jossey-Bass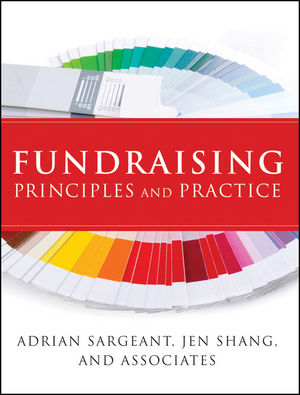 This books offers a definitive text on the vital topic fundraising. It provides students of fundraising and nonprofit professionals access to the most relevant theories and includes concrete examples of modern fundraising practice. The book contains clear learning objectives, recommended readings, case studies, summary self-test questions, and exercises at the end of each chapter. The Principles and Practice of Fundraising comprehensively addresses all the major forms of fundraising and critical topics such as donor behavior and fundraising planning.

Praise for fundraising principles and practice
"Not only will fundraisers benefit from this comprehensive yet accessible text, but this should be required reading for all nonprofit practitioners and scholars. Reading this book will provide valuable insight on a vital subject and enhance the success of any fundraising effort."
John B. Ford, president, Academy of Marketing Science and professor of marketing, Old Dominion University

"This is not just a how-to-do-it book. Rather, it provides deep knowledge about the nonprofit sector, its role in society, and the values and psychology of giving that is essential to responsible and effective fundraising."
Paul Brest, president, William and Flora Hewlett Foundation and author, Money Well Spent

"Adrian Sargeant is the world's foremost fundraising scholar. This text will be invaluable to the beginner, but new research findings mean it should also be a must read for established practitioners."
Steve Thomas, co-chair, Resource Alliance, and chairman, Stephen Thomas Ltd, Toronto

"Designed and written to fill the void in current fundraising and development textbooks for both undergraduate and graduate students studying nonprofit management and leadership, Fundraising Principles and Practice surpasses my expectations for a comprehensive approach that will benefit American Humanics programs."
SueAnn Strom, vice president, Academic Partnerships, American Humanics, Inc.

"Sargeant is the accessible academic and this is typical of his work. It is rigorously researched, clear, concise, well written, well presented and entirely appropriate. Any fundraiser who knows what Adrian knows will outperform the others. It's as simple as that."
Ken Burnett, author, Relationship Fundraising and The Zen of Fundraising
See More
Part 1: Introduction To Fundraising and Donor Behavior.
Chapter 1: Introduction to the Nonprofit Sector.
Objectives.
A Third Sector.
A Tax based Definition.
A Structural-Operational Definition.
Size and Economic Significance of the Nonprofit Sector.
Sources of Income.
Philanthropic Income.
Summary.
Chapter 2: The Development of a Profession (Eugene R Tempel and Sarah K Nathan).
Chapter 3: Ethical Fundraising.
Chapter 4: Individual Giving Behavior.
Chapter 5: Social Influences on Giving.
Part 2: Fundraising Planning.
Chapter 6: Fundraising Planning: The Fundraising Audit.
Chapter 7: Fundraising Planning.
Chapter 8: The Case For Support (Timothy L Seiler and Eva E. Aldrich).
Chapter 9: Assessing Fundraising Performance.
Part 3: Fundraising Methods.
Chapter 10: Direct Response Fundraising.
Chapter 11 Fundraising Online: Techniques and Tools (Ted Hart and Adrian Sargeant).
Chapter 12: Donor Retention and Development.
Chapter 13: Major Gift Fundraising (Robert F. Hartsook and Adrian Sargeant).
Chapter 14: Bequest, In Memoriam and Tribute Giving.
Chapter 15: Planned Giving (Matthew J. Beem and Adrian Sargeant).
Chapter 16: Corporate Giving and Fundraising (Dwight F Burlingame and Adrian Sargeant).
Chapter 17: Grant Fundraising.
Part 4: Fundraising and Civil Society.
Chapter 18: Managing Fundraising Volunteers (Walter Wymer and Adrian Sargeant).
Chapter 19: Events Fundraising.
Chapter 20: Women and Philanthropy (Debra J Mesch and Andrea Pactor).
Chapter 21: Public Trust and Confidence.
Chapter 22: The Social Role of Fundraising (Richard B. Gunderman).
See More
Adrian Sargeant is the Robert F. Hartsook Professor of Fundraising at Indiana University; professor of nonprofit marketing and fundraising at Bristol Business School in the United Kingdom; and adjunct professor of philanthropy at the Australian Centre for Philanthropy and Nonprofit Studies at Queensland University of Technology, Brisbane, Australia. The managing editor of the International Journal of Nonprofit and Voluntary Sector Marketing, he has authored numerous articlesand books.
Jen Shang is a professor and philanthropic psychologist at the School of Public and Environmental Affairs at Indiana University–Bloomington. Her work has been featured in the Chronicle of Philanthropy, Advancing Philanthropy, Nonprofit Times, and The New York Times.
See More
More in this series

Learn more about