Business Ethics: A Case Study Approach
ISBN: 978-0-470-45067-3
192 pages
May 2009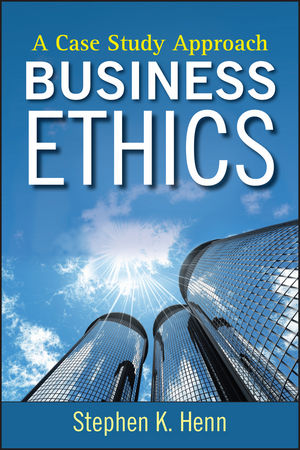 THERE'S A "NEW NORMAL" IN BUSINESS ETHICS
Despite all the words and regulations aimed at building ethical and responsible organizations, observed misbehavior has increased—think of the Siemens scandal and Bernie Madoff. Business Ethics: A Case Study Approach confronts the brutal fact about business ethics as it exists today—it's not working.
This stirring casebook powerfully draws a direct line between ethics and business performance—that is, the sounder your company's ethical foundation, the stronger it will perform in brand recognition, sales, customer satisfaction and loyalty, employee productivity, and even in reduced regulatory burdens.
So, how can you develop leadership that sets the right tone at the top?
Author and ethics professional Stephen Henn answers that question with candidly insightful case studies that look at every angle of ethical lapses, including:
A CFO's Dilemma
The Duke University Lacrosse Scandal
Arthur Andersen
The Stanford Prison Experiment
The Smithsonian Institution
Firestone/Ford Tire Recalls
Jordan's Furniture
Whirlpool and Leadership Development
Ponzi Schemes
And many more
Examining the old mind-sets and dogmas on business ethics and holding them up to the light of day, Business Ethics: A Case Study Approach reveals how the ethical health of your organization will forecast whether or not it outperforms the competition. This is your twenty-first-century rule book for understanding the "new normal" in business ethics.
See More
Preface.
Acknowledgments.
CHAPTER 1 Introduction.
Themes.
Case Study: A CFO's Dilemma.
CHAPTER 2 Why Are Ethics Critical?
What Is the Objective?
The Research.
Stakeholder Approach.
All Animals Are Equal, but ...
A Two-Way Street.
Uncle Sam.
Toward a Workable Model.
CHAPTER 3 Why ''Business'' Ethics Is Not Just about Corporations.
Case Study: The Duke University Lacrosse Scandal.
20/20 Hindsight.
The Burden of Expectations.
Case Study: The United Way.
A Broad Impact.
CHAPTER 4 A Historical Review.
The Ancient World.
Greek Citizens' Code.
Military Codes.
Cardinal Virtues and Vices.
Business Ethics in Times Past.
Timbuktu.
Case Study: Saint Thomas Aquinas.
Case Study: Arthur Andersen.
The Nature of Man.
CHAPTER 5 Why Do People Behave Badly?
Moral Development.
Fraud Triangle.
Propensity.
Hierarchy of Needs.
Case Study: Walt Pavlo.
There but for the Grace of God.
Broken Windows.
Rending Moral Fabric.
CHAPTER 6 Work Environment and Group Dynamics.
Social Animals.
Relative Ethics.
Social Control Theory.
Case Study: The Stanford Prison Experiment.
Elements of Social Bonding.
Case Study: The Milgram Experiment.
Power, Authority, and Proximity.
Positive Peer Pressure.
CHAPTER 7 Leadership.
Tone at the Top.
Authenticity.
Case Study: Václav Havel.
Outside Perspectives.
Case Study: The Smithsonian Institution.
Leadership Bonding.
CHAPTER 8 The Common Element—Trust.
Prisoners' Dilemma.
Trust.
The Cost of Trust.
Case Study: The Tylenol Poisonings.
A Well of Goodwill.
Case Study: Firestone–Ford Tire Recalls.
Two Approaches.
CHAPTER 9 Building an Army of Davids.
Herding Cats.
1 Samuel 17.
Breaking the Chains.
Basic Principles.
Evangelize.
Case Study: Jordan's Furniture.
Back to Maslow.
Moral Hazard.
Causes and Culture.
CHAPTER 10 The Positive Power of Peer Pressure.
The Gentleman at Dinner.
Belief.
I Fly SWA.
Attachment.
Commitment.
Involvement.
In the Trenches.
Why Are We Doing This?
The Whole Picture.
CHAPTER 11 How to Develop Leadership.
Fore!
Case Study: Whirlpool and Leadership Development.
Investing in the Future.
Emerging Leaders.
A Bias.
CHAPTER 12 The Logic of William of Ockham.
Law of Parsimony.
Is It the Means or the Ends?
The Whole View.
All Organizations Are Businesses.
Case Study: University versus Nation.
All about Me.
Case Study: Charles Ponzi and His Scheme.
Enjoying the Kool-Aid.
CEO and Trust.
Feeding the Wolf.
Index.
See More
Learn more about