The Rudolph Factor: Finding the Bright Lights that Drive Innovation in Your Business
ISBN: 978-0-470-45103-8
208 pages
July 2009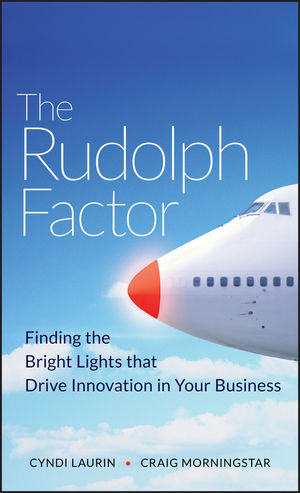 The bestselling author of Catch! shares the innovation secrets that helped Boeing turn itself around from the brink of collapse
The Rudolph Factor tells the story of Boeing's spectacular turnaround through a discussion of principles and qualities that are transferable and replicable to any size or type of organization in any industry. Authors Cyndi Laurin and Craig Morningstar use the story of Rudolph the Red-Nosed Reindeer as an analogy to explore a corporate culture that managed to avoid disaster through progressive leadership; a highly participatory team-based culture; the development of an organizational constitution; and an alternative, aligned employee rewards structure. Using real-world lessons from Boeing's inspiring story, The Rudolph Factor shows companies how to nurture a culture centered around their "Rudolphs"–those out-of-the-box, creative employees who can serve as shining lights to lead organizations in accomplishing their goals. Applicable to anyone who runs a business of any size, this book shows readers how to find, nurture, and leverage the creativity of its employees to achieve a long-term competitive advantage.
See More
Acknowledgments ix
Foreword E. David Spong xi
Foreword David M. Bowman xv
Preface xix
CHAPTER 1 The Prevailing Form of Business Cultures 1
CHAPTER 2 The Boeing Company and the Impetus for a Cultural Revolution 25
CHAPTER 3 Why Rudolph, You Ask? 41
CHAPTER 4 Nurturing Rudolphs to Maximize Their Innovative Contributions 59
CHAPTER 5 Establishing a Team-Based Rudolph Culture 77
CHAPTER 6 Redefining Leadership 107
CHAPTER 7 Developing a Corporate Constitution 121
CHAPTER 8 Creating an Alternative and Aligned Reward Structure 143
Epilogue Go Forth—Awaken the Rudolph Within 161
Resources 167
Index 169
About the Authors 181
See More
Cyndi Laurin, PhD
, is an author, international keynote speaker, and founder of Guide to Greatness, LLC. She specializes in process improvement and performance man-agement. She is also the bestselling author of
Catch!
Craig Morningstar is an experienced senior-level executive whose background includes positions at Southwest Airlines and Charles Schwab. He is also an entrepreneur who has founded, operated, and sold several companies.
See More