Trump University Marketing 101: How to Use the Most Powerful Ideas in Marketing to Get More Customers, 2nd Edition
ISBN: 978-0-470-45307-0
480 pages
January 2010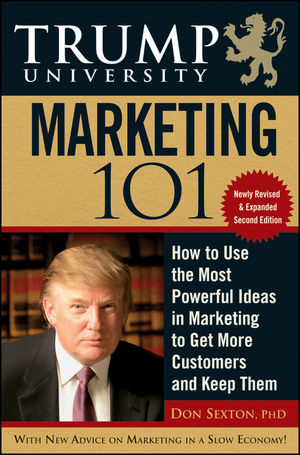 Trump University books are practical, straightforward primers on the basics of doing business the Trump way—successfully. Written by leading experts and including an inspiring Foreword by Trump himself, these books present smart business wisdom illustrated by real-life examples from Trump and other world-renowned experts. Perfect for anyone who wants to get ahead in business without the cost of an MBA, these street-smart books provide real-world business advice based on the one thing you can't get in any business school—experience.
In Trump University Marketing 101, Second Edition, you'll learn how to:
Master the basics of great marketing to grow your business

Adapt your marketing strategy to difficult economic conditions

Understand customers, competitors, and markets

Discover your target audiences

Position your product or service against the competition

Create a great brand from scratch

Market residential and commercial properties effectively

Develop powerful marketing plans

Increase customer satisfaction

Price your products for maximum profit

Use advertising and the Internet to promote your business

Employ guerrilla marketing techniques

And much more!
See More
Foreword.
Preface.
Acknowledgments.
PART I How to Build a Powerful Marketing Strategy.
CHAPTER 1 Trump on Marketing.
CHAPTER 2 What Is Marketing?
CHAPTER 3 Building a Marketing Strategy.
CHAPTER 4 Understanding Your Customers.
CHAPTER 5 Measuring and Managing Your Perceived Value.
CHAPTER 6 Understanding Your Competitors.
CHAPTER 7 Understanding Your Organization's Capabilities.
CHAPTER 8 Understanding Your Overall Competitive Environment.
CHAPTER 9 Identifying Your Possible Markets.
CHAPTER 10 Selecting Your Key Target Market.
CHAPTER 11 Possibly the Most Important Chapter in This Book: Positioning Your Product or Service.
PART II Improving Your Marketing Strategy.
CHAPTER 12 Creating Your Most Valuable Asset: Your Brand.
CHAPTER 13 Developing Your Growth Plan.
CHAPTER 14 Determining Your Focus for Growth.
CHAPTER 15 Increasing Your Customer Satisfaction.
CHAPTER 16 Managing Your Marketing Programs.
PART III Implementing Your Strategy.
CHAPTER 17 Product/Service Design.
CHAPTER 18 Integrating Customer Communications.
CHAPTER 19 Advertising.
CHAPTER 20 Identifiers.
CHAPTER 21 Sales Promotion.
CHAPTER 22 Personal Selling.
CHAPTER 23 Public Relations.
CHAPTER 24 Internet Marketing.
CHAPTER 25 Pricing.
CHAPTER 26 Distribution.
CHAPTER 27 Guerrilla Marketing.
PART IV Marketing Real Estate.
CHAPTER 28 Marketing Residential Real Estate.
CHAPTER 29 Selling Residential Real Estate.
CHAPTER 30 Marketing Commercial Real Estate.
CHAPTER 31 Selling Commercial Real Estate.
PART V Marketing During Tough Times.
CHAPTER 32 Marketing During Tough Times: Do's and Don'ts.
CHAPTER 33 Tough Time Marketing: Managing Current Customers.
CHAPTER 34 Tough Time Marketing: Getting New Customers.
PART VI Understanding Numbers.
CHAPTER 35 Financial Analysis for Smart Marketing Decisions.
CHAPTER 36 Conducting Marketing Research.
CHAPTER 37 Forecasting.
PART VII Making Sure Marketing Strategy Succeeds.
CHAPTER 38 The Marketing Plan.
CHAPTER 39 Motivating Your People.
Notes.
About the Author.
Index.
See More
Don Sexton is Professor of Marketing at Columbia University, a recipient of Columbia Business School's Distinguished Teaching Award, and the founder and principal of The Arrow Group, Ltd.®, a marketing consulting and training firm whose clients have included GE, IBM, DuPont, Verizon, Citigroup, Pepsi, Unilever, and Pfizer, among many other well-known companies. He has taught at Columbia for more than forty years and his articles on marketing and branding have appeared in numerous publications, including the Harvard Business Review and the Journal of Marketing. He is often quoted in media such as the New York Times and BusinessWeek. He is the author of Trump University Branding 101, also from Wiley.
See More