Mac OS X Snow Leopard Bible
ISBN: 978-0-470-45363-6
844 pages
September 2009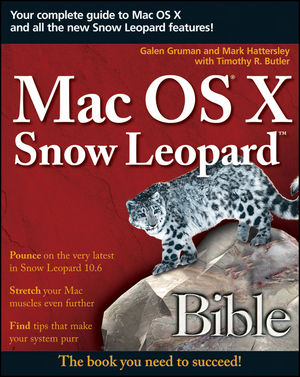 Tame the very latest Mac OS X cat, Snow Leopard 10.6
Snow Leopard moves faster and roars louder than its predecessor, and this comprehensive guide shows you all the ways to get the most out of this powerful new cat. Explore everything from its muscular handling of applications and streaming media to its new, game-changing support of Microsoft's ActiveSync technology. Get set up on Snow Leopard 10.6, learn professional-level security tools, and discover secret tricks and workarounds with this essential guide.
Install, set up, secure, and explore Mac OX 10.6 Snow Leopard

Connect to a network, work with MobileMe, and share files

Meet Grand Central Dispatch and jet-propel your apps with parallel processing

Get up to speed on Open CL, for faster general performance

Run Windows applications and exchange files with Windows PCs

Go beyond the basics with AppleScript, the Automator, and Unix commands
See More
Part I: Getting Started with Mac OS X 10.6 Snow Leopard
Chapter 1: Starting with Mac OS X 10.6 Snow Leopard 3
Chapter 2: Exploring Mac OS X 10.6 Snow Leopard 29
Chapter 3: Using the Finder and Searching with Spotlight 103
Chapter 4: Backing Up Files 149
Chapter 5: Getting Help Inside Mac OS X 177
Chapter 6: Accessing Mac OS X with Universal Access 191
Chapter 7: Working with Applications and Documents 235
Chapter 8: Working with Mac OS X Applications, Utilities, and Widgets 275
Chapter 9: Playing Music and Videos 319
Part II: Networking and the Internet
Chapter 10: Connecting to the Web 349
Chapter 11: Collaborating and Communicating 377
Chapter 12: Setting Up a Network 433
Chapter 13: Sharing Files and Other Resources 447
Chapter 14: Serving Web Pages and Files from Your Mac 459
Chapter 15: Working with MobileMe 465
Part III: At Work with Mac OS X
Chapter 16: Working with Services 487
Chapter 17: Printing and Faxing 497
Chapter 18: Integrating with Windows 511
Chapter 19: Working with Microsoft Exchange 535
Part IV: Maintaining Your Mac with OS X
Chapter 20: Managing User Accounts 549
Chapter 21: Setting System Preferences 571
Chapter 22: Managing Fonts 627
Chapter 23: Securing Your Mac 647
Part V: Beyond the Basics
Chapter 24: Enhancing Mac OS X with Utilities 669
Chapter 25: Using AppleScript and Automator 675
Chapter 26: Making Use of Unix 705
Glossary 749
Index 779
See More
Galen Gruman is executive editor of InfoWorld.com and principal at The Zango Group, an editorial consulting firm. Previously, he was editor of Macworld (U.S.) and M-Business and West Coast bureau chief of Computerworld.
Mark Hattersley is Editor in Chief of the Macworld group in the UK. He watches over Macworld, MacVideo, iPod User, and Digital Arts. Mark is a technology writer and editor with wide-ranging experience in the tech industry in particular.
See More