PMP Project Management Professional Exam Study Guide, Includes Audio CD, 5th Edition
ISBN: 978-0-470-45558-6
672 pages
June 2009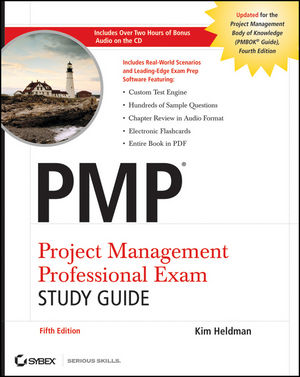 The much-anticipated update to the highly acclaimed PMP® study guide!
The Project Management Profressional (PMP) certification is the most desired skill in today's IT marketplace and candidates are required to have thousands of hours of PM experience even before taking the PMP exam.
This fifth edition is completely updated for the newest exam and is the most comprehensive review guide on the shelf. You'll benefit from the detailed discussions on a wide range of PMP topics, concepts, and key terms-all of which cover the Project Management Process and Procedures.
A comprehensive study guide for the PMP certification exam that can also be used as a reference after the exam
Each chapter covers a list of objectives, followed by in-depth discussions of those objectives
Includes hands-on, real-world scenarios to prepare you for the many situations you may face on the job
Companion CD-ROM features a test engine of practice questions, electronic flashcards, and two hours of audio
Essential reading both before and after the PMP exam, this study guide is also aimed at anyone studying for the new Certified Associate in Project Management (CAPM®) program.
Note: CD-ROM/DVD and other supplementary materials are not included as part of eBook file.
For Instructor: Teaching supplements are available for this title.
(CAPM, PMP, and Project Management Professional are registered marks of the Project Management Institute, Inc.)
See More
Introduction.
Assessment Test.
Chapter 1 What Is a Project?
Chapter 2 Creating the Project Charter.
Chapter 3 Developing the Project Scope Statement.
Chapter 4 Creating the Project Schedule.
Chapter 5 Developing the Project Budget.
Chapter 6 Risk Planning.
Chapter 7 Planning Project Resources.
Chapter 8 Developing the Project Team.
Chapter 9 Conducting Procurements and Sharing Information.
Chapter 10 Measuring and Controlling Project Performance.
Chapter 11 Controlling Work Results.
Chapter 12 Applying Professional Responsibility.
Appendix A Process Inputs and Outputs.
Appendix B About the Companion CD.
Index.
See More
Kim Heldman, PMP, is the Chief Information Officer for the Colorado Department of Transportation. She has over 19 years of experience in project management and consulting. Kim is the author of several books on project management, including the previous four editions of the bestselling PMP: Project Management Professional Exam Study Guide.
See More
Do you think you've discovered an error in this book? Please check the list of errata below to see if we've already addressed the error. If not, please submit the error via our Errata Form. We will attempt to verify your error; if you're right, we will post a correction below.
Chapter
Page
Details
Date
Print Run
1
27
Text correction
Under the header "Planning," from the third sentence remove the phrase "and stakeholders are identified," so that the sentence reads:
"This process group is where the project requirements are fleshed out."
12/30/09
1st
5
212
Text correction
The introductory paragraph under "Tools and Techniques for Plan Communicatons" does not mention all of the topics for discussion in the following section.
The second sentence should read: "The process consists of four tools and techniques to help determine these elements."
The third sentence should read: "They are communications requirements analysis, communications technology, communications models, and communication methods."
9/18/09
1st
5
224
Text correction: Error in Option A. for Review Question 9.
Option A. should read: "This process aggregates the estimated costs of project activities." Delete "including risks and contingency reserves."
9/18/09
1st
6
278
Text correction: Typo in Option A. for Review Question 5.
Option A., "toot cause analysis" should read: "root cause analysis"
9/18/09
1st
8
341
Text correction
Under "Tools and Techniques of Acquire Project Team," the bulleted list has both "Pre-assignment" and "negotiation" as one bullet. These should each be their own bullet.
9/18/09
1st
9
403
Text correction: Exam Essentials
The second item in the list: "Be able to name the tools and techniques of the Conduct Procurements process" is in error. The list of tools and techniques should read as follows:
"bidder conferences, proposal evaluation techniques, independent estimates, expert judgment, advertising, internet search, and procurement negotiations."
9/16/09
1st
9
411
Text correction: Incorrect answer given for Review Question 20.
The answer given for Review Question 20. is C. The correct answer should be B. The explanation is correct as written.
3/17/10
10
425
Text correction
The second sentence under "Communication Methods:" "Status meetings are a type of push communication..." is in error. It should read:

"Status meetings are a type of interactive communication..."

See also errata for the answer to Review Question 7 on page 445, in which this error occurs again.
9/18/09
1st
10
445
Text correction: Answer to Review Question 7
The answer, A., is the correct answer. However, the explanation is in error. It should read:
"According to the PMBOK Guide, status meetings are a form of interactive communication."
9/18/09
1st
See More
Learn more about