E-book
Signs and Wonders: Why Pentecostalism Is the World's Fastest Growing Faith
ISBN: 978-0-470-45639-2
256 pages
March 2009, Jossey-Bass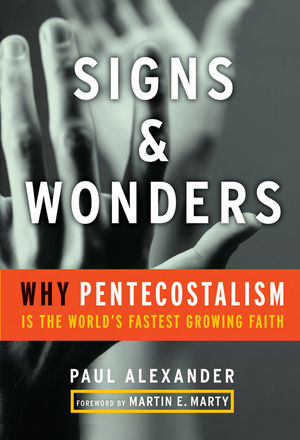 Combining personal stories and sound scholarship, Paul Alexander, a young scholar with a Pentecostal background, examines the phenomenal worldwide success of Pentecostalism. While most other works on the subject are either for academics or believers, this book speaks to a broader audience. Interweaving stories of his own and his family's experiences with an account of Pentecostalism's history and tenets, Alexander provides a unique and accessible perspective on the movement.
See More
Acknowledgments.
Chapter 1: Just Ask: A World of Miracles Awaits.
Chapter 2: Worship and Music.
Chapter 3: Tongue-Talking.
Chapter 4: Prosperity (or Money, Money, Money, Money).
Chapter 5: Storytelling.
Chapter 6: Power and Spiritual Warfare.
Chapter 7: Prophecy, Visions, and Dreams.
Chapter 8: Hope, Joy, and Emotion.
Notes.
The Author.
Index.
See More
Paul Alexander is the founder of Pentecostals and Charismatics for Peace and Justice, a multiethnic, international, and ecumenical network of pastors, laypeople, academics, missionaries, and students. He teaches at Azusa Pacific University.
See More