Nanostructured Materials and Nanotechnology III, Volume 30, Issue 7
ISBN: 978-0-470-45757-3
176 pages
November 2009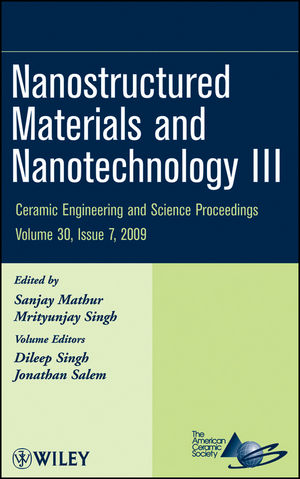 This useful resource will help you understand the most valuable aspects of nanostructured materials and nanotechnology. Containing 16 peer-reviewed papers, this issue covers various aspects and the latest developments related to processing, modeling and manufacturing technologies of nanoscaled materials including CNT and clay-based composites, nanowire-based sensors, new generation photovoltaic cells, plasma processing of functional thin films, ceramic membranes and self-assembled functional nanostructures.
See More
Preface.
Introduction.
Nanowires as Building Blocks of New Devices Present State and Prospects.
Mechanistic Studies on Chemical Vapor Deposition Grown Tin Oxide Nanowires.
Multifunctional Silicon Nitride Ceramic Nanocomposites Using Single-Walled Carbon Nanotubes.
Simulation Based Design of Polymer Clay Nanocomposites Using Multiscale Modeling An Overview.
Preparation and Characteristic Control of Conducting Polymer/Metal Oxide Nano Hybrid Films for Solar Energy Conversion.
Liquid Phase Morphology Control of Metal Oxides Phase Transformation of Stand Alone ZnO Films in Aqueous Solutions.
Fabrication of the Finestructured Alumina Porous Materials with Nanoimprint Method.
Structure Control of the Nanotube/Nanoparticle Hydrid Materials with Sonochemical Processing.
Efficient Photocatalytic Degradation of Methylene Blue with CuO Loaded Nanocrystalline TiO2.
Constituent Phases of Nanosized Alumina Powders Synthesized by Pulsed Wire Discharge.
The Formation of Nanostructure Compounds Layer During Sulfur Plasma Nitriding and Its Mechnical Properties.
Adhesion Improvement of Hard Boron Nitride Films by Insertion of Various Interlayers.
Production of Alumina Matrix Nanocomposite by Solid State Precipitation.
Nanostructured Alumina Coatings Formed by a Dissolution/Precipitaion Process Using AIN Powder Hydrolysis.
Synthesis of Aluminum Nitride Nanosized Powder by Pulsed Wire Discharge without Ammonia.
Ductile Deformation in Alumina/Silicon Carbide Nanocomposites.
Author Index.
See More
More in this series