Textbook
Differential Equations: An Introduction to Modern Methods and Applications, Student Solutions Manual, 2nd Edition
ISBN: 978-0-470-45825-9
Paperback
572 pages
May 2011, ©2011
US $57.95

Add to Cart
This price is valid for United States. Change location to view local pricing and availability.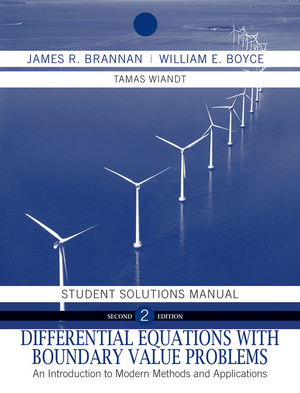 Flexible Organization: Organization of chapters, sections, and projects allows for a variety of course configurations depending on desired course goals, topics, and depth of coverage.
Numerous and Varied Problems: Throughout the text, section exercises of varying levels of difficulty give students hands-on experience in modeling, analysis, and computer experimentation.
Emphasis on Systems: Systems of first order equations, a central and unifying theme of the text, are introduced early, in Chapter 3, and are used frequently thereafter.
Linear Algebra and Matrix Methods: Two-dimensional linear algebra sufficient for the study of two first order equations, taken up in Chapter 3, is presented in Section 3.1. Linear algebra and matrix methods required for the study of linear systems of dimension n (Chapter 6) are treated in Appendix A.
Contemporary Project Applications: Optional projects at the end of Chapters 2 through 10 integrate subject matter in the context of exciting, contemporary applications in science and engineering, such as controlling the attitude of a satellite, ray theory of wave propagation, uniformly distributing points on a sphere, and vibration analysis of tall buildings.
Computing Exercises: In most cases, problems requiring computer generated solutions and graphics are indicated by an icon.
Visual Elements: In addition to a large number of illustrations and graphs within the text, physical representations of dynamical systems and interactive animations available in WileyPLUS provide students with a strong visual component to the subject.
Laplace Transforms: A detailed chapter on Laplace transforms discusses systems, discontinuous and impulsive input functions, transfer functions, feedback control systems, poles, and stability.
Control Theory: Ideas and methods from the important application area of control theory are introduced in some examples and projects, and in the last section on Laplace Transforms, all of which are optional.
Recurring Themes and Applications: Important themes and applications, such as dynamical system formulation, phase portraits, linearization, stability of equilibrium solutions, vibrating systems, and frequency response are revisited and reexamined in different applications and mathematical settings.
Chapter Summaries: A summary at the end of each chapter provides students and instructors with a birds-eye view of the most important ideas in the chapter.