Women and Philanthropy: Boldly Shaping a Better World
ISBN: 978-0-470-46066-5
304 pages
September 2010, Jossey-Bass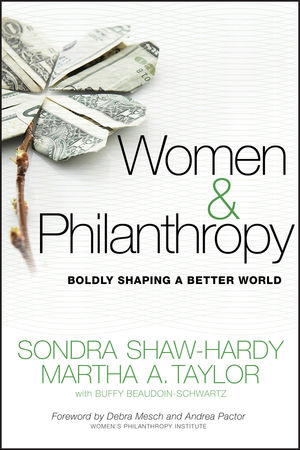 Praise for Women and Philanthropy
"Women and Philanthropy provides unique and meaningful stories of scores of women philanthropists and describes how these women are making a difference through giving, partnering, leveraging, role modeling, and asking, and will help all women on their philanthropic journey, as well as nonprofits who are working with women as donors."
—Jennifer Buffett, philanthropist and president, Novo Foundation, New York, New York
"Written for every development officer who wants to gain greater insight into charitable giving by women, this thorough, engaging book makes a compelling case for the importance of engaging women as volunteers and as donors."
—John Lippincott, president, Council for Advancement and Support of Education, Washington, D.C.
"With in-depth information about the importance of diversity to women's giving and how the philanthropy of women has and will shape the future of the nonprofit sector, this critically important book provides insightful information for donors and nonprofit leaders alike."
—Emmett D. Carson, CEO and president, Silicon Valley Community Foundation, Mountain View, California
"Sondra, Martha, Buffy and their colleagues have led the way in examining the role and impact of women in giving, volunteering, and social involvement. Their latest volume is a must-read not only for anyone working in the nonprofit sector, but also for any donor, regardless of gender."
—Paulette V. Maehara, president and CEO, Association of Fundraising Professionals (AFP), Alexandria, Virginia
"Women and Philanthropy provides a look at what has been, but more importantly, provides a road map for what is possible for women as donor leaders in changing the face of philanthropy."
—Christine Grumm, president and CEO, Women's Funding Network, San Francisco, California
"A wise and exceptional book that breaks essential ground in the world of philanthropy by delving into the issues specific to women."
—Charles W. Collier, senior philanthropic advisor, Harvard University, and author, Wealth in Families, Cambridge, Massachusetts
See More
Web Contents.
Foreword.
Preface.
Acknowledgments.
About the Authors.
PART ONE: Acknowledging the Differences.
1 Women Are Not Little Men.
2 The Power of the Purse.
PART TWO: The Hows and Whys of Women's Philanthropy.
3 From Bag Ladies to Bold Divas: The Media and Changing Stereotypes.
4 Women's Giving: The Six Cs Plus Three.
5 Stages, Styles, and Generations.
PART THREE: Building Bridges to the Other Half.
6 Nonprofits' Future: Gender-Sensitive Development.
7 Bringing Women to the Table.
8 Women's Philanthropy Programs and Giving Circles.
9 Taught or Caught: Donor Education.
PART FOUR: The Future of Philanthropy.
10 Bold Women Giving Boldly: New Frontiers of Women's Philanthropy.
11 The Age of Women's Philanthropy.
Resource A: Focus Group Sample Questions.
Resource B: The Million Dollar Exercise.
Resource C: What's It All About? Money and Me.
Resource D: Experiences with Philanthropy: Current Giving Patterns and Family Values.
Resource E: The Power of the Purse.
Resource F: Resource Papers.
Notes.
Index.
See More
Sondra Shaw-Hardy
is one of the founders of the women's giving circle movement and cofounder of the Women's Philanthropy Institute at the Center on Philanthropy at Indiana University. She is the author of
Women's Giving Circles: Reflections From the Founders
and coauthor of
Youth Giving Circles
and
Reinventing Fund-raising: Realizing the Potentialof Women's Philanthropy
.
Martha A. Taylor is a vice president at the University of Wisconsin Foundation where she established the first women's philanthropy initiative at a public university. She is the cofounder of the Women's Philanthropy Institute at the Center on Philanthropy at Indiana University and coauthor of Reinventing Fundraising: Realizing the Potential of Women's Philanthropy.
Buffy Beaudoin-Schwartz is the communications director at the Association of the Baltimore Area Grantmakers and a founder of the Women's Giving Circle of Howard County. She is the coauthor of A Plan of One's Own: A Woman's Guide to Philanthropy and Growing Philanthropy Through Giving Circles.
See More