Spanish All-in-One For Dummies
ISBN: 978-0-470-46244-7
696 pages
August 2009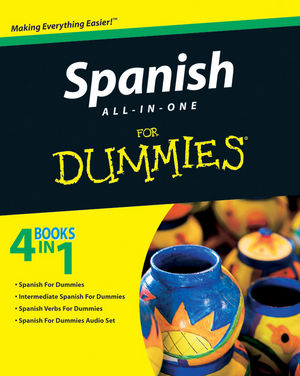 Your comprehensive guide to speaking, reading, and writing in Spanish!
Want to speak Spanish? Looking to improve your Spanish skills? Now you can start today with these minibooks, which give you the expert instruction you need to master Spanish basics and beyond. From numbers and vocabulary to common phrases, conversations, and much more, you'll see how to communicate effectively in Spanish and use it in real-life situations. The practical exercises will give you greater confidence — and the bonus CD helps you start speaking Spanish from day one!
Warm up with the basics — handle greetings and small talk and review pronunciation rules, letters, numbers, and dates

Speak in everyday settings — handle greetings and small talk, order food and purchase goods, talk on the phone, ask for directions, and deal with emergencies

Grasp grammar essentials — learn to identify and use the various parts of speech while you conjugate verbs in the simple past, present, and future tense

Stretch your skills — issue commands with the imperative mood, take action on object pronouns, talk about yourself with the reflexive, and wish and hope with the subjunctive

Take Spanish to work — communicate with colleagues or customers at the office, tailor phrases to your line of work, and review example workplace scenarios for common professions
Open the book and find:
Basic and advanced Spanish grammar

Pronunciation tips and vocabulary charts

Verb conjugations for regular and irregular verbs

Masculine and feminine nouns

Tips for using adjectives, adverbs, and prepositional phrases

Proper ways to ask questions

The inside scoop on the key verb haber

Key phrases for numerous work environments

Spanish-to-English and English-to-Spanish dictionaries
Bonus CD Includes
Features dialogues by native Spanish speakers

Allows you to hear Spanish as it's really spoken

Please see the CD appendix for details and complete system requirements.
Note: CD-ROM/DVD and other supplementary materials are not included as part of eBook file.
See More
Introduction 1
Book I: Speaking in Everyday Settings 7
Chapter 1: Warming Up with the Bare Basics 9
Chapter 2: Uno, Dos, Tres: Numbers, Colors, Dates, and Time 23
Chapter 3: Greetings, Salutations, and Farewells 39
Chapter 4: Engaging in a Little Chitchat 53
Chapter 5: Speaking of Food 69
Chapter 6: Going Shopping 89
Chapter 7: Conversing Over the Phone 109
Chapter 8: Asking Directions 121
Chapter 9: Dealing with Emergencies 133
Book II: Grasping Basic Grammar Essentials 149
Chapter 1: Getting to Know Your Parts of Speech 151
Chapter 2: Addressing Gender Issues 165
Chapter 3: Dealing with the Here and Now: Present Tense Verbs 181
Chapter 4: ¿Qué? Asking Questions 201
Chapter 5: What's Happening: Present Participles and the Present Progressive Tense 213
Chapter 6: Two More Simple Tenses: Future and Conditional 221
Chapter 7: Spicing Up Your Talk with Adjectives and Adverbs 231
Chapter 8: Defi ning Relationships with Prepositions 247
Book III: Mastering More Advanced Grammar Essentials 257
Chapter 1: Getting Bossy with the Imperative Mood 259
Chapter 2: Getting Object Pronouns Involved 271
Chapter 3: Involving Yourself in the Action with the Reflexive 281
Chapter 4: Been There, Done That: Past (Preterit) Tense 289
Chapter 5: Continuing in the Past with the Imperfect Tense 301
Chapter 6: Getting That Subjunctive Feeling 307
Chapter 7: Forming the Compound Tenses 323
Book IV: Spanish at Work 337
Chapter 1: Spanish for Healthcare Workers 339
Chapter 2: Spanish for Law Enforcement Professionals 367
Chapter 3: Spanish for Educators and Administrators 383
Chapter 4: Spanish for Banking and Financing 401
Chapter 5: Spanish in the Office 417
Chapter 6: Spanish for Hotel and Restaurant Managers 437
Chapter 7: Spanish for Builders, Mechanics, and Factory Workers 459
Chapter 8: Spanish for Real Estate Professionals 471
Chapter 9: Spanish for Gardening and Landscaping 491
Book V: Appendixes 503
Appendix A: Spanish Verbs 505
Appendix B: Spanish-English Mini Dictionary 585
Appendix C: English-Spanish Mini Dictionary 605
Appendix D: About the CD 627
Index 631
End-User License Agreement 669
See More
Buy Both and Save 25%!
Spanish All-in-One For Dummies (US $34.99)
-and- Golf All-in-One For Dummies (US $29.99)
Total List Price: US $64.98
Discounted Price: US $48.73 (Save: US $16.25)
Cannot be combined with any other offers. Learn more.