Platelet Proteomics: Principles, Analysis, and Applications
ISBN: 978-0-470-46337-6
Hardcover
424 pages
May 2011
US $103.95

Add to Cart
This price is valid for United States. Change location to view local pricing and availability.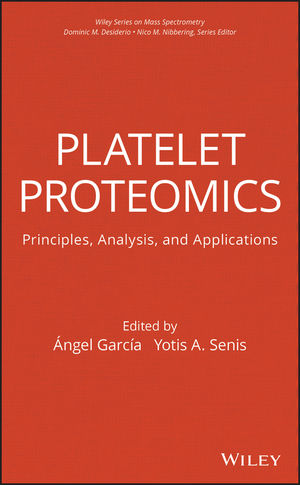 Other Available Formats:
E-book
Contributors.
Foreword.
Preface.
Acronyms.
PART I GENERAL OVERVIEW: PLATELETS, SAMPLE PREPARATION, AND MASS SPECTROMETRY-BASED PROTEOMICS.
1 Platelets and Their Role in Thrombotic and Cardiovascular Disease: The Impact of Proteomic Analysis (Ronald G. Stanley, Katherine L. Tucker, Natasha E. Barrett, and Jonathan M. Gibbins).
2 Mass-Spectrometry-Based Proteomics: General Overview and Posttranslational Modification Analysis in the Context of Platelet Research (Julia Maria Burkhart and Albert Sickmann).
3 Sample Preparation Variables in Platelet Proteomics for Biomarker Research (Maria Zellner and Rudolf Oehler).
PART II ANALYSIS OF THE PLATELET PROTEOME: GLOBAL APPROACHES AND SUBPROTEOMES.
4 Two-Dimensional Gel Electrophoresis: Basic Principles and Application to Platelet Signaling Studies (Angel Garcia).
5 The Platelet Membrane Proteome (Yotis A. Senis).
6 Proteomics of Platelet Granules, Organelles, and Releasate (James P. McRedmond).
7 The Platelet Microparticle Proteome (David M. Smalley).
8 N-Terminal Combined Fractional Diagonal Chromatographic (COFRADIC) Analysis of the Human Platelet Proteome (Francis Impens, Kenny Helsens, Niklaas Colaert, Lennart Martens, Joel Vandekerckhove, and Kris Gevaert).
PART III INTEGRATED "OMICS" AND APPLICATION TO DISEASE.
9 Serial Analysis of Gene Expression (SAGE) For Studying the Platelet and Megakaryocyte Transcriptome (Michael G. Tomlinson).
10 The Application of Microarray Analysis and Its Integration with Proteomics for Study of Platelet-Associated Disorders (Dmitri V. Gnatenko and Wadie F. Bahou).
11 Platelet Functional Genomics (Isabelle I. Salles, Marie N. O'Connor, Daphne C. Thijssen-Timmer, Katleen Broos, and Hans Deckmyn).
12 Systems Biology to Study Platelet-Related Bleeding Disorders (Jan-Willem N. Akkerman and Bernard De Bono).
13 Platelet Proteomics in Transfusion Medicine (Thomas Thiele, Leif Steil, Uwe V¨olker, and Andreas Greinacher).
14 Cardiovascular Proteomics (Fernando Vivanco, Fernando de la Cuesta, Maria G. Barderas, Irene Zubiri, and Gloria A´lvarez-Llamas).
Index.