E-book
Brand for Talent: Eight Essentials to Make Your Talent as Famous as Your Brand
ISBN: 978-0-470-46370-3
272 pages
March 2009, Jossey-Bass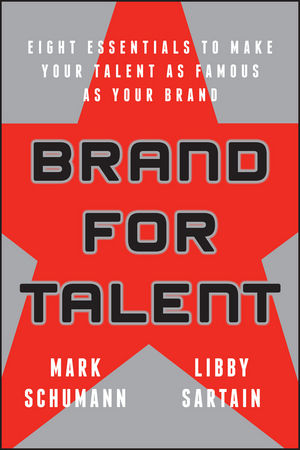 Praise for Brand for Talent
"As a marketer, nothing is more important than building a strong, relevant brand. As a leader, nothing is more important than creating an energized, talented group of employees. Brand for Talent provides a compelling framework and great practical tips. It will change the way you think about your people strategy."
CAMMIE DUNAWAY, Nintendo of America
"Brand for Talent is your wake up call to the realities of today's hiring marketplace. Branding baristas Mark Schumann and Libby Sartain welcome you with a steaming mug of half philosophy and half pragmatism topped with real-world examples. Get Brand for Talent, get amped and get going!"
—BRAD WHITWORTH, ABC, Cisco, IABC Fellow, IABC Past Chairman
"In this compelling and incisive book, Mark Schumann and Libby Sartain bring branding into the realm of human resource management."
—HAYAGREEVA RAO, Graduate School of Business, Stanford University
"This is a fascinating book. Using the power of a consumer brand as a lever to retain talent is a given. What hasn't been done until this book is to put the brand to work in order to attract the best. Who would have thought that social networking would become the new battleground in the hunt? This is one human resources book I actually enjoyed reading."
—LOU WILLIAMS ABC, APR, L.C. Williams & Associates, IABC Fellow, IABC Past Chairman, Institute for Public Relations Fellow
"Mark Schumann and Libby Sartain bring unique experiences and examples that show how to go beyond simple recruiting to create a sustainable talent system for good times and tough times."
—Dr. JOHN BOUDREAU, Marshall School of Business, University of Southern California
Join Us at Josseybass.com
Register at www.josseybass.com/email for more information on our publications, authors, and to receive special offers.
See More
Introduction
Part One: Get Real
Essential One: Wake Up
Essential Two: Look Ahead
Part Two: Get to Work
Essential Three: Create
Essential Four: Segment
Essential Five: Implement
Part Three: Get Prepared
Essential Six: Sustain
Essential Seven: Survive
Part Four: What It Means to You
Build a Talent Brand Legacy
Notes
Acknowledgments
Index
About the Authors
See More
For the past 20 years,
Mark Schumann
and
Libby Sartain
have collaborated at such legendary organizations as Southwest Airlines and Yahoo! to create a definitive point of view on the value an employer brand can bring to any business. Their best-selling book,
Brand from the Inside
, offered the step-by-step secrets to brand development; in Brand for Talent they share their insight into how to market an employer brand to various talent segments in today's social media world. Mark Schumann, ABC, is the former global communication practice leader for Towers Perrin. For more than 30 years he has counseled business leaders, Human Resources, and Corporate Communications on how to recruit, retain, and engage employees. His creative work has been honored with 15 Gold Quill Awards from the International Association of Business Communicators.
Libby Sartain is an active business advisor and Corporate Board Member, following a distinguished 30-year career in Human Resources including CHRO roles at Southwest and Yahoo!, both of which were listed on the Fortune 100 Best Companies To Work For in America during her tenure. Today, Libby helps organizations develop employer brand strategies to create magnetic reputations as places to work.
See More