Classical Guitar For Dummies
ISBN: 978-0-470-46470-0
360 pages
July 2009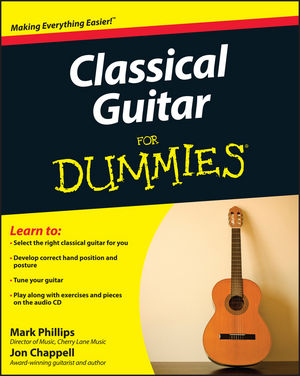 Learn to:
Select the right classical guitar for you
Develop correct hand position and posture
Tune your guitar
Play along with exercises and pieces on the audio CD
The fun and easy way® to start playing classical guitar!
Want to be a classical guitarist, but never had a lesson? No problem — this hands-on guide teaches you all the fundamental techniques you need to play scales, melodies, and full-length pieces in the classical style. You get plenty of practice exercises to stretch your skills, selections from the classical repertoire, and a bonus audio CD that helps you play along with the music pieces from the book!
Get acquainted with your guitar — familiarize yourself with the unique make-up and parts of a classical guitar
Start making some music — play melodies on individual strings, move on to arpeggios, and get your fingers in shape with scales
Ramp up your technique — play barres, slurs, and trills; handle harmonics; master right-hand tremolo; and venture up the neck to play in the higher positions
Build your classical repertoire — from Renaissance and Baroque to Classical, Romantic, and Modern, play pieces from the major eras in classical music
Practice makes perfect — improve your performance with expert guidance through each exercise and piece in the book
Open the book and find:
Tips and techniques for playing beautiful pieces
How to read music notation and tablature
Basic finger and thumb strokes
Right- and left-hand techniques
Musical examples, charts, and photos
Music pieces from the guitar greats
The best ways to care for your guitar
A step-by-step tutorial on changing your strings
Bonus CD Includes
More than 140 recorded performances of the exercises and pieces featured in the book
Pieces performed using a count-off, allowing you to play along in time with the music
Tuning notes to help you tune up your guitar
See More
Introduction.
Part I: Getting to Know the Classical Guitar.
Chapter 1: An Acoustic Guitar in a League of Its Own.
Chapter 2: Getting Ready to Play.
Chapter 3: Deciphering Music Notation and Tablature.
Part II: Starting to Play: The Basics.
Chapter 4: One Note at a Time: Playing Simple Melodies.
Chapter 5: Rolling the Notes of a Chord: Arpeggio Technique.
Chapter 6: Practicing Scales in First and Second Position.
Chapter 7: Exploring Musical Textures.
Part III: Improving Your Technique.
Chapter 8: Flat-Fingered Fretting with Barres.
Chapter 9: Getting a Smooth Sound with Slurs and Trills.
Chapter 10: Coloring Your Sound with Tone-Production Techniques.
Chapter 11: Scaling the Musical Ladder beyond Second Position.
Chapter 12: Combining Arpeggios and Melody.
Chapter 13: Combining Left-Hand Techniques While Playing up the Neck.
Part IV: Mastering Classical Guitar Repertoire.
Chapter 14: Playing Pieces by the Guitar Greats.
Chapter 15: Early Guitar Music from the Renaissance and Baroque Eras.
Chapter 16: The Guitar Comes of Age: The Classical, Romantic, and Modern Eras.
Part V: The Part of Tens.
Chapter 17: Ten (Or So) Classical Guitarists You Should Know.
Chapter 18: Ten Things to Do When Shopping for a Classical Guitar.
Part VI: Appendixes.
Appendix A: Basic Guitar Care and Maintenance.
Appendix B: How to Use the CD.
Index.
See More
Mark Phillips is a guitarist, arranger, author, and editor with more than 35 years in music publishing. Jon Chappell is a multi-style guitarist, arranger, author, and journalist, as well as a former editor-in-chief of Guitar magazine. Phillips and Chappell are also the authors of the bestselling Guitar For Dummies, 2nd Edition.
See More
Buy Both and Save 25%!
Classical Guitar For Dummies (US $24.99)
-and- Clarinet For Dummies (US $21.99)
Total List Price: US $46.98
Discounted Price: US $35.23 (Save: US $11.75)
Cannot be combined with any other offers. Learn more.