E-book
Cover Letters For Dummies, 3rd Edition
ISBN: 978-0-470-46682-7
312 pages
January 2009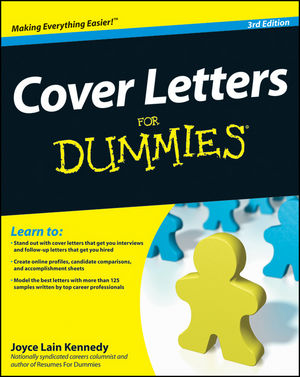 Cover letters are alive and sell! When they're written right, that is. To stand out in today's sea of qualified job seekers, learn to craft riveting new breeds of cover letters, create vibrant images online, and discover sensational self-marketing documents you never imagined. This completely revised and updated
3rd Edition
of
Cover Letters For Dummies
brings you all this — plus over 200 great new samples by 62 successful professional cover letter/resume writers.
You've probably suspected that passive and sleepy cover letters merely hugging resumes won't get you where you want to go. Especially in a shaky job market. The verdict's in. Since the last edition of Cover Letters For Dummies, blazing fast change in tools, technology, and how hiring managers come calling and how we invite them to look us over, means big dramatic changes in our job messages.
In this exceptional handbook of contemporary job messages, you'll discover fresh ways of thinking about cover letters that captain an entire team of new-style job messages.
See More
Introduction.
Part I: Cover Letters and So Much More!
Chapter 1: News Flash: Cover Letters Are Grown Up and Have Kids.
Chapter 2: Creating Images Online for Now and Tomorrow.
Chapter 3: Special Marketing Messages Outrun Rivals.
Part II: Creating Compelling Communications.
Chapter 4: Writing Your Way to a Job.
Chapter 5: Language That Snap-Crackle-Pops.
Chapter 6: Great Lines for Success.
Chapter 7: Job Seeker's Skills Finder.
Part III: Job Letters: Sample the Best.
Chapter 8: Job Ad Reply Letters.
Chapter 9: Broadcast and Prospecting Letters.
Chapter 10: Networking Letters.
Chapter 11: Resume Letters.
Chapter 12: Thank-You and Follow-Up Letters.
Part IV: Online Messages: Sample the Best.
Chapter 13: Branding Statements and Online Profiles.
Chapter 14: E-Mail Cover Notes.
Part V: The Part of Tens.
Chapter 15: Ten Urban Legends to Toss.
Chapter 16: Ten Tips for Top-Rated Online Profiles.
Appendix: Directory of Job Letter Writers.
Index.
See More
Joyce Lain Kennedy is a nationally syndicated careers columnist appearing in newspapers and on Web sites across the country. The author of seven career management books, she has more than 30 years of experience in the career field.
See More