Introduction to Protein Structure Prediction: Methods and Algorithms
ISBN: 978-0-470-47059-6
Hardcover
516 pages
December 2010
US $138.00

Add to Cart
This price is valid for United States. Change location to view local pricing and availability.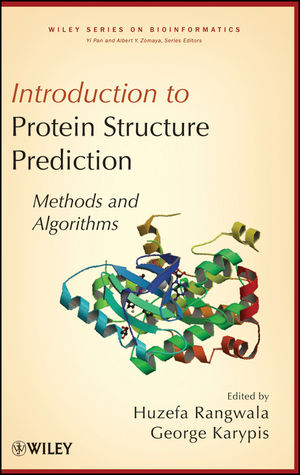 Other Available Formats:
E-book
Preface.
Contributors.
1 Introduction to Protein Structure Prediction (Huzefa Rangwala and George Karypis).
2 CASP: A Driving Force in Protein Structure Modeling (Andriy Kryshtafovych, Krzysztof Fidelis, and John Moult).
3 The Protein Structure Initiative (Andras Fiser, Adam Godzik, Christine Orengo, and Burkhard Rost).
4 Prediction of One-Dimensional Structural Properties of Proteins by Integrated Neural Networks (Yaoqi Zhou and Eshel Faraggi).
5 Local Structure Alphabets (Agnel Praveen Joseph, Aurélie Bornot, and Alexandre G. de Brevern).
6 Shedding Light on Transmembrane Topology (Gábor E. Tusnády and István Simon).
7 Contact Map Prediction by Machine Learning (Alberto J.M. Martin, Catherine Mooney, Ian Walsh, and Gianluca Pollastri).
8 A Survey of Remote Homology Detection and Fold Recognition Methods (Huzefa Rangwala).
9 Interactive Protein Fold Recognition by Alignments and Machine Learning (Allison N. Tegge, Zheng Wang, and Jianlin Cheng).
10 Tasser-Based Protein Structure Prediction (Shashi Bhushan Pandit, Hongyi Zhou, and Jeffrey Skolnick).
11 Composite Approaches to Protein Tertiary Structure Prediction: A Case-Study by I-Tasser (Ambrish Roy, Sitao Wu, and Yang Zhang).
12 Hybrid Methods for Protein Structure Prediction (Dmitri Mourado, Bostjan Kobe, Nicholas E. Dixon, and Thomas Huber).
13 Modeling Loops in Protein Structures (Narcis Fernandez-Fuentes, Andras Fiser).
14 Model Quality Assessment Using A Statistical Program that Adopts A Side Chain Environment Viewpoint (Genki Terashi, Mayuko Takeda-Shitaka, Kazuhiko Kanou and Hideaki Umeyama).
15 Model Quality Prediction (Liam J. McGuffin).
16 Ligand-Binding Residue Prediction (Chris Kauffman and George Karypis).
17 Modeling and Validation of Transmembrane Protein Structures (Maya Schushan and Nir Ben-Tal).
18 Structure-Based Machine Learning Models for Computational Mutagenesis (Majid Masso and Iosif I. Vaisman).
19 Conformational Search for the Protein Native State (Amarda Shehu).
20 Modeling Mutations in Proteins Using MEDUSA and Discrete Molecule Dynamics (Shuangye Yin, Feng Ding, and Nikolay V. Dokholyan).
Index.