E-book
How to Read a Financial Report: Wringing Vital Signs Out of the Numbers, 7th Edition
ISBN: 978-0-470-47125-8
216 pages
April 2009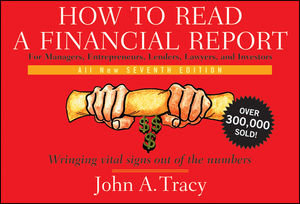 How to Read a Financial Report Seventh Edition
Financial reports provide vital information to investors, lenders, and managers. Yet, the financial statements in a financial report seem to be written in a foreign language that only accountants can understand. This Seventh Edition of How to Read a Financial Report breaks through the language barrier, clears away the fog, and offers a plain-English user's guide to financial reports. The book helps you get a sure-handed grip on the profit, cash flow, and financial condition of any business.
Here's what's new in the Seventh Edition:
Discussion of the transition to international accounting and financial reporting standards

A streamlined centerpiece exhibit used throughout the book to explain connections between the three financial statements

An integrated section on analyzing profit, cash flow, and solvency for investors, lenders, and managers (now Part Two in this edition)

Reflection on financial reporting and auditing in the post-Enron era
"What distinguishes Tracy's efforts from other manuals is an innovative structure that visually ties together elements of the balance sheet and income statement by tracing where and how a line item in one affects an entry in another."
—Inc.
"An excellent job of showing how to separate the wheat from the chaff without choking in the process."
—The Miami Herald
"A wonderful book organized logically and written clearly. For a Fool to be an effective investor, she has to know her way around a financial statement. This book will help you develop that skill. It's the clearest presentation of many accounting concepts that this Fool has seen."
—Selena Maranjian, The Motley Fool
See More
Part One—Components and Connections in Financial Statements.
1 Starting with Cash Flows.
2 The Three Financial Statements.
3 Profit Isn't Everything.
4 Sales Revenue and Accounts Receivable.
5 Cost of Goods Sold Expense and Inventory.
6 Inventory and Accounts Payable.
7 Operating Expenses and Accounts Payable.
8 Operating Expenses and Prepaid Expenses.
9 A Unique Expense: Depreciation.
10 Accruing the Liability for Unpaid Expenses.
11 Income Tax Expense and Its Liability.
12 Net Income and Retained Earnings; Earnings per Share (EPS).
13 Cash Flow from Operating (Profit-Making) Activities.
14 Cash Flows from Investing and Financing Activities.
15 Footnotes to Financial Statements.
Part Two—Financial Statement Analysis.
16 Impact of Growth and Decline on Cash Flow.
17 Financial Statement Ratios.
18 Profit Analysis for Business Managers.
Part Three—Reliability of Financial Report.
19 Accounting and Financial Reporting Standards.
20 Accounting Methods and Massaging the Numbers.
21 Audits of Financial Reports in the Post-Enron Era.
22 Parting Comments.
Index.
See More
JOHN A. TRACY is an award-winning Professor of Accounting, Emeritus, at the University of Colorado at Boulder. His other books include The Fast Forward MBA in Finance, Second Edition, Accounting For Dummies, Fourth Edition, and Accounting Workbook For Dummies, all published by Wiley.
See More