Lighting Design Basics, 2nd Edition
ISBN: 978-0-470-47427-3
256 pages
April 2012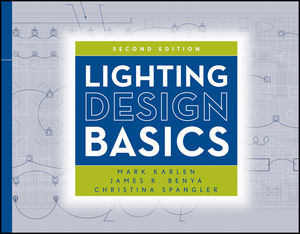 The essential book of lighting for professional designers, now updated and revised
Providing the fundamental information new designers need to succeed in a concise, highly visual format, the Second Edition of Lighting Design Basics presents realistic goals that can be used as a guide to create simple yet impressive lighting designs and when collaborating with professional designers on more complex projects.
Drawing on real-world case studies— from kitchens to doctors' offices—the book is packed with attractive, helpful illustrations, making it an invaluable resource for students, as well as interior designers and architects studying for professional licensing exams.
Authored by leading lighting designers with decades of experience
Offers straightforward coverage of lighting concepts and techniques
Contains design scenarios for more than twenty different types of spaces
Lighting is a basic, yet difficult-to-master element of interior design. Lightning Design Basics changes that, putting the power to create in the hands of the designer.
See More
Preface
vii
Chapter 1 Introduction: How to Use This Book 1
Chapter 2 Basic Concepts in Lighting 3
Chapter 3 Qualities of Light Sources 11
Chapter 4 Daylighting 19
Chapter 5 Lamps 25
Chapter 6 Luminaires 39
Chapter 7 Lighting Controls 55
Chapter 8 Quantity of Light 61
Chapter 9 Quality of Light 75
Chapter 10 Lighting Design Approach 83
Chapter 11 Documenting Lighting Design 89
Chapter 12 Residential Lighting Design 97
Chapter 13 Workspace Lighting Design 121
Chapter 14 Classroom Lighting Design 137
Chapter 15 Healthcare Lighting Design 143
Chapter 16 Retail Lighting Design 151
Chapter 17 Hospitality Lighting Design 165
Chapter 18 Lighting for Common Spaces 185
Chapter 19 Outdoor Lighting Design 207
Chapter 20 Basic Lighting Retrofitting 213
Chapter 21 Professional Lighting Design 215
Appendix A Computers in Lighting 223
Appendix B Energy Code Calculations 227
Appendix C Lighting in LEED 231
Bibliography 233
Index 235
See More
Mark Karlen, PhD, AIA, ASID, has a long and distinguished career in design education and professional practice as an architect and interior designer. He has chaired the interior programs at the University of Cincinnati and Pratt Institute, as well as having completed many successful buildings and interiors projects. James R. Benya, PE, FIES, IALD, LC, is a lighting designer and Principal of Benya Lighting Design of West Linn, Oregon. He is widely published in industry magazines and has lectured extensively on the professional conference circuit. Christina Spangler, LC, IALD, IES, is a lighting designer and Principal in the Philadelphia and New York City–based Lighting Design Collaborative. She currently teaches at Moore College of Art and Design.
See More
Do you think you've discovered an error in this book? Please check the list of errata below to see if we've already addressed the error. If not, please submit the error via our Errata Form. We will attempt to verify your error; if you're right, we will post a correction below.
Chapter
Page
Details
Date
Print Run
6
46
Fig 6-16
See the Downloads tab to view Figure 6-16
See More
Learn more about