Acceptance and Mindfulness in Cognitive Behavior Therapy: Understanding and Applying the New Therapies
ISBN: 978-0-470-47441-9
Paperback
368 pages
November 2010
US $70.00

Add to Cart
This price is valid for United States. Change location to view local pricing and availability.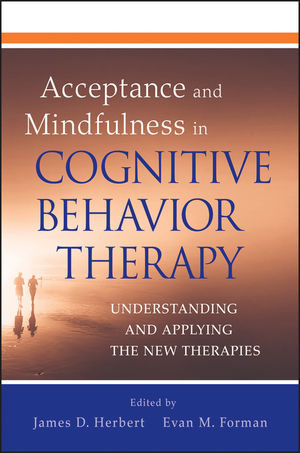 Other Available Formats:
E-book
Contributors.
Foreword (Gerald C. Davison, PhD).
Part I New Developments in the Behavior Th erapy Tradition: Perspectives on Mindfulness and Psychological Acceptance.
1 The Evolution of Cognitive Behavior Therapy: The Rise of Psychological Acceptance and Mindfulness (James D. Herbert and Evan M. Forman).
2 Cognitive Therapy (David J. A. Dozois and Aaron T. Beck).
3 Mindfulness-Based Cognitive Therapy (David M. Fresco, Jessica J. Flynn, Douglas S. Mennin, and Emily A. P. Haigh).
4 Metacognitive Therapy (Adrian Wells).
5 Emotional Schema Th erapy: A Bridge Over Troubled Waters (Robert L. Leahy).
6 Mindfulness-Based Stress Reduction (Paul G. Salmon, Sandra E. Sephton, and Samuel J. Dreeben).
7 Dialectical Behavior Therapy (Clive J. Robins and M. Zachary Rosenthal).
8 Behavioral Activation in the Context of "Third Wave" Therapies (Christopher R. Martell and Jonathan Kanter).
9 Integrative Behavioral Couple Therapy: An Acceptance-Based Approach to Improving Relationship Functioning (Meghan M. McGinn, Lisa A. Benson, and Andrew Christensen).
10 Understanding Acceptance and Commitment Therapy in Context: A History of Similarities and Differences With Other Cognitive Behavior Therapies (Kelly G. Wilson, Michael J. Bordieri, Maureen K. Flynn, Nadia N. Lucas, and Regan M. Slater).
Part II Integration and Synthesis.
11 Mindfulness and Acceptance: Th e Perspective of Cognitive Therapy (Stefan G. Hofmann, Julia A. Glombiewski, Anu Asnaani, and Alice T. Sawyer).
12 Mindfulness and Acceptance: The Perspective of Acceptance and Commitment Therapy (Michael Levin and Steven C. Hayes).
13 Mindfulness and Acceptance in Cognitive Behavior Th erapy: What's New? (Marvin R. Goldfried).
Author Index.
Subject Index.