E-book
The Best of 2600: A Hacker Odyssey, Collector's Edition
ISBN: 978-0-470-47469-3
912 pages
January 2009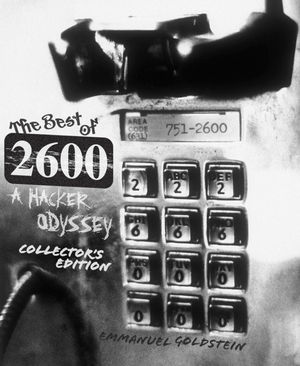 In response to popular demand, Emmanuel Goldstein (aka, Eric Corley) presents a spectacular collection of the hacker culture, known as 2600: The Hacker Quarterly, from a firsthand perspective. Offering a behind-the-scenes vantage point, this book provides devoted fans of 2600 a compilation of fascinating—and controversial—articles. Cult author and hacker Emmanuel Goldstein has collected some of the strongest, most interesting, and often provocative articles that chronicle milestone events and technology changes that have occurred over the last 24 years. He divulges author names who were formerly only known as "anonymous" but have agreed to have their identity revealed. The accompanying CD-ROM features the best episodes of Goldstein's "Off the Hook" radio shows.
Note: CD-ROM/DVD and other supplementary materials are not included as part of eBook file.
See More
Introduction.
I The 1980s: In the Beginning.
1 Stories and Adventures.
2 The Last Days of Ma Bell.
3 New Toys to Play With.
4 The Early Days of the Net.
5 Corporate History.
6 Raids.
7 The Hacker Philosophy.
II The 1990s: The World Discovers Hackers.
8 Pop Culture and the Hacker World.
9 The Computer Revolution.
10 Learning to Hack Other Things.
11 More Hacker Stories and Adventures.
12 The Changing of the Telephone.
13 Hackers and the Law.
III 2000 and Beyond: A Changing Landscape.
14 The Lawsuits.
15 Still More Hacker Stories.
16 A New Era of Telephony.
17 Retail Hacking.
18 Toys of the 21st Century.
Index.
See More
Emmanuel Goldstein first became enchanted with the computer during his high school days in the late '70s. His infatuation soon got him into trouble as he discovered he could access things he shouldn't. A few years and an FBI raid later, he cofounded 2600: The Hacker Quarterly as an outlet for stories and tutorials from hackers around the world.
Since 1988, Goldstein has hosted Off the Hook, a hacker-themed radio talk show airing on WBAI FM in New York City. The seven HOPE (Hackers On Planet Earth) conferences he has organized since 1994 have drawn thousands of attendees from points around the globe. Goldstein served as technical consultant for the 1995 feature film Hackers, and has testified before Congress on the issue of hacking and where the threat actually lies.
To this day, Emmanuel Goldstein has never taken a course in computers.
See More