The Leadership Challenge: Activities Book
ISBN: 978-0-470-47713-7
688 pages
May 2010, Pfeiffer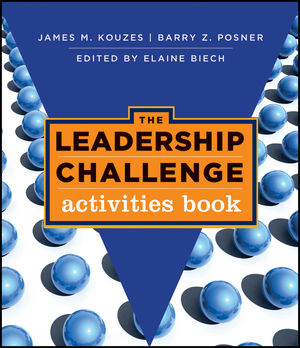 Compiled by training and consulting expert Elaine Biech, this new Leadership Challenge resource provides practical information and tools for demonstrating and teaching The Five Practices of Exemplary Leadership to audiences both new to or already familiar with the model. Filled with 75 experiential learning activities and games, each keyed to a specific practice(s), this book is an excellent addition to a facilitator's existing The Leadership Challenge and the Leadership Practices Inventory (LPI) or other leadership development program. This book will feature contributions from experienced Leadership Challenge facilitators and other greats in the training industry.
See More
About the Website xvii
Chapter One: Leadership and the Challenge to Make it Work 1
Chapter Two: For a Dynamic Delivery 11
Chapter Three: Model the Way 33
Anatomy of Power 37
Teri-E Belf
Values from the Movie Gandhi 45
Lily Cheng
Shared Values: Drive-By Conversations 47
Kim Chesky
Toothpick Activity 50
Mary Cooper and Debbie Zmorenski
One Step Forward, Two Steps Back 54
Cher Holton
A Leadership Point of View 58
Edith Katz
It's All in a Name 61
Jan Miller and Denise Knight
Leadership in Context 64
Mohandas Nair
Cultural Artifacts 69
Anne Reilly and Homer Johnson
Setting an Example to Mirr or Is Not Enough 77
Cheryl L. Rude
Ethics for the 21st Century 80
Charlotte S. Waisman and Linda Bedinger
Model Behavior 94
Devora Zack
Chapter Four: Inspire a Shared Vision 97
Inspiration Becomes a Reality 101
Jean Barbazette
Inspiring a Shared Vision Mingle 107
Daren Blonski
Show Me the Mission 111
Angie Chaplin
Ensuring Sponsor Commitment to Change 114
Daryl R. Conner
Can You Picture This? 118
Timothy Ewest
Extra! Extra! Read All About It! 127
Leonard D. Goodstein
Another Leader's Dream 130
Donna Goss and Don Robertson
What Does Success Look Like? 142
Amanda Crowell Itliong
Blindfold Square 146
Jean Lee
The Perfect Place—Heaven on Earth 150
Jan Miller and Denise Knight
Modeling the Future 153
Linda S. Eck Mills
Defining a Vision That Others Will Follow 155
Nanette Miner and Lynn Little
The Spiritual Leader 159
Mohandas Nair
Define Your Values Through a Vision Statement 165
Steve A. Rainey
Lights, Camera, Action! 172
Devora Zack
Claiming a Breakthrough 175
Sherene Zolno
Chapter Five: Challenge the Process 183
Game of the Generals 188
Elisa May Arboleda-Cuevas and Audie Bautista Masigan
Take Off the Blindfolds 195
Douglas Austrom
The Giant Skip 205
Peter Cheng
Change: Feel the Pain, See the Gain 208
Daryl R. Conner
Gordon's Knot 214
Ricky Foo
Take a Risk! 217
Dennis E. Gilbert
When Questions Are the Answer— Challenging the Process 228
Barbara Pate Glacel
Toss It Around 239
Ann Hermann-Nehdi
Challenge Think Tank 243
Amanda Crowell Itliong
Cash Flow Exercise 246
Edith Katz
Change Project Summary 249
Edith Katz
Constructing a Global Team Communications Device 252
John Lybarger
Identify Perceived Causes of Resistance 257
Consuelo Meux
In-Basket Exercise 275
Alan Richter
Challenge the Process in Real Time 280
L.J. Rose
Overcoming Barriers 290
Darryl Sink
You Be the Judge!™ 295
Karen Travis
Assumption Reframe 307
Devora Zack
Chapter Six: Enable Others to Act 311
What Would YOU Do in My Shoes? 315
Geoff Bellman
Enabling Cross-Functional Leadership 318
Christopher Chaves
Building Resilience for Change 332
Daryl R. Conner
Enabling with Style 337
Ann Hermann-Nehdi
Currency Exchange 345
Cindy Huggett
Team Competency Development Plan 349
Edith Katz
Career Conversations: Cues for Developing Others 352
Beverly Kaye
Double Overlapping Strategic Cross 359
Sharon Landes
What Makes You Trust Someone? 368
Sherri Dosher
Trust-Building Discussion 372
Doug Leigh
Human Trust Knot 379
Jan Miller and Denise Knight
Trust and Communication 382
Jan Miller and Denise Knight
Share Fair 385
Marilyn Myers
No Easy Way Out 388
Mona Lee Pearl
Coaching Versus Telling 396
Lou Russell
Empowerment Force Field Analysis 402
Cindy Taylor
Inflated Actions 405
Lorraine Ukens
Activate to Motivate 409
Devora Zack
Chapter Seven: Encourage the Heart 413
Accelerating Change-Readiness 417
Herb Cohen and Bruce Fern
Thank You Card 428
Ricky Foo
Complimentary Closer 431
Michael Gerlach
Positive Bombing 434
Jonas Hansson
Conundra 437
Brian Jackson
Writing and Receiving Class Affi rmations 449
Edith Katz
A Rewarding Activity 456
Lorraine Kohart
You're Making Me Blush! 459
Jan Miller and Denise Knight
Hip-Hip-Hooray 462
Jan Miller and Denise Knight
Creating Your Team's Celebratory Crest 465
Anne Reilly and Homer Johnson
Gifts 471
Kris Taylor
Refreshing Frescos 481
Devora Zack
Chapter Eight: Overarching Activities 485
Dinosaurs 488
Douglas R. Bender, Sr.
A Night at the Oscars 492
Michelle Poché Flaherty
Confirmation Cards 500
Beth High
Winning 503
Steve Houchin
Exemplary Leadership Practices Pictionary 509
Andy Jefferson and Cal Wick
Who Are Your Favorite Leaders? 513
Sherri Dosher
Skit in a Box 518
John Lybarger and William P. van Bark
Engagement and Risk 523
Andy Meyer
Hit the Deck 526
Janet Morano
Leadership in Action 528
Travis L. Russ
The Leadership Challenge® Workshop Follow-Up 533
Charles Stump
The Leadership Race 537
Richard T. Whelan
Leadership Questions 542
Valarie Willis
The Five Practice Drill Down 545
Valarie Willis
The Five Practices: I Know 'em When I See 'em 548
Donna Yurdin
Chapter Nine: Leadership Tools and Other Times and Other Places 559
Leadership Tools
Leading from a Distance: How to Conduct an Effective Virtual Meeting 562
Debra A. Dinnocenzo
Measure Your Networking Quotient 574
Michael Dulworth
The Leadership Perspective Model 586
Peter R. Garber
Cross Your Arms 593
Jonas Hansson
Beat the Clock: Make Delegation Work for You! 596
Deborah Spring Laurel
Building Leadership 606
Linda S. Eck Mills
Emotional Intelligence for Exemplary Leadership 609
Dominique Parrish
Using the Mind Screen Technique for Focus 621
Carole E. Pearce
Listening Deeply as a Leader 624
Mary Stelletello
My Way or the Highway 634
Joanne G. Sujansky
Challenge Leadership Through Structured Reflection Interviews 638
Gary Wagenheim
Other Times and Other Places
What Leaders Do to Inspire (or Uninspire) Followers 643
Michael Kroth and Martha Yopp
Walking the Talk 649
Nancy Lowery
The Roving Lunch 652
Anntoinette "Toni" Lucia
This Would Really Help Me 656
Robert Morris
Chapter Ten: Where to Go Next 659
About the Editors 663
The Five Practices and Ten Commitments of Exemplary Leadership 671
See More
James M. Kouzes and Barry Z. Posner are the coauthors of The Leadership Challenge, A Leader's Legacy, Credibility, Encouraging the Heart, and The Leadership Challenge Workbook, and over a dozen other books and workbooks on leadership. They also developed the highly-acclaimed Leadership Practices Inventory (LPI), a 360-degree assessment tool based on The Five Practices.
Elaine Biech is president and managing principal of ebb associates inc., a strategic implementation, leadership development, and experiential learning consulting firm. She is also the author and editor of over four dozen books, including Training for Dummies andthe Pfeiffer Annuals: Training and Consulting.
See More