Bailout Riches!: How Everyday Investors Can Make a Fortune Buying Bad Loans for Pennies on the Dollar
ISBN: 978-0-470-47825-7
240 pages
May 2009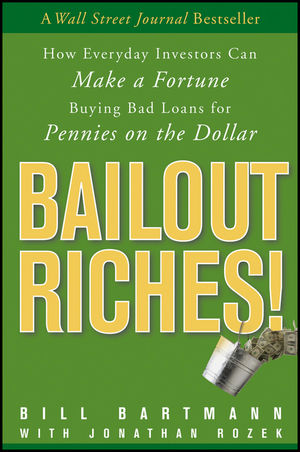 What is the investment opportunity from America's financial crisis? Somewhere north of one trillion dollars of debt--mortgages, credit cards, and other forms--will be written off and sold to buyers at pennies on the dollar. It gets even better: There are ways to buy that debt with no money of your own.
Society's collective pain from this crisis means that it's unlikely to occur ever again on this scale. Investors with the right roadmap are poised to profit spectacularly. Bartmann lays out a step by step plan on how to find the best deals from the federal government, local Financial Institutions, and loan brokers. The spectrum of loans that are available include: credit card debt, consumer loans, business loans, commercial loans, and real estate loans.
You've heard about the massive government bailout of the financial sector and its cost to taxpayers. Couple that with skyrocketing unemployment and a shrinking stock market and you might think this is a terrible time to invest in anything. But you'd be wrong.
In Bailout Riches!, Bill Bartmann shows you how to invest in the bailout itself and take your own cut of the trillion-dollar pie. What does Bartmann know about bailouts? Only that the last big-time government bailout-involving the savings and loan crisis and the government's Resolution Trust Corporation- made him a billionaire. This time around, the bailout is much bigger and opportunities for profit are much greater.
"Who better to teach you how to prosper from this economic chaos than a man who actually took himself from 'bankruptcy to billionaire' during the last crisis."--Ken Blanchard, coauthor, The One Minute Entrepreneur
"Bill Bartmann is more than a great financial success story; he is a phenomenal teacher who has helped thousands of my students achieve success. Bailout Riches will show you how you can prosper during these tumultuous times." --T. Harv Eker, author, New York Times #1 bestseller, Secrets of the Millionaire Mind
"When the economy is in crisis, Bill Bartmann finds the diamond in the rough. The information in this book made him a billionaire fourteen years ago during the S&L crisis. Now the economy is cratering again and his methods are working better than ever. Read this book and discover a hidden source of wealth all around you."--David Lindahl, author of Emerging Real Estate Markets and Multi-Family Millions
See More
CHAPTER 1 I've Seen This Movie Before, and Know How It Ends: I Make a Billion Dollars.
What Am I Talking About?
How This Book Is Organized.
CHAPTER 2 Realize the Opportunity.
How Loans Become Bad Debts, from the Lender's Point of View.
The FDIC and the RTC.
Two Important Outcomes of Bank Rescues.
When I Realized I'd Seen This Movie Before.
A Perfect Storm of Financial Factors.
CHAPTER 3 Understand That You Can Take Advantage of It, Regardless of Your Circumstances.
A Secret about Dealing with Borrowers.
Billionaire Principle: You Can't Fail at Trying.
CHAPTER 4 How to Find Good Deals, Part One.
Various Types of Loans.
Where to Start.
Sources of Loan Portfolios.
Source #1: The FDIC.
Source #2: New Bailout/Stimulus Entities.
Source #3: Brokers.
National Loan Exchange.
CHAPTER 5 How to Find Good Deals, Part Two.
Source #4: Your Local Bank.
Do These Things and You're Sure to Fail.
How to Approach Your Local Bank.
Your Five-Minute Pitch.
Now You're on Your Way.
CHAPTER 6 How to Review a Loan Portfolio.
Factors That Affect Loan Collectability.
How to Put It All Together.
CHAPTER 7 How to Make a Portfolio Offer and Finance It.
How to Calculate the Bid.
How to Prepare the Bid Document.
How You Conduct the Meeting.
The Conclusion of the Meeting.
Get the Deal in Writing.
Financing Your Portfolio.
How to Find the Bank That Will Finance You.
Essential Ingredients for Securing Your Loan.
Loan Proposal Principles.
Non-Bank Financing Sources.
CHAPTER 8 How to Manage Your Portfolio.
The Mindset of a Bill Collector.
The Two Main Approaches That Set You Apart.
To Sue or Not to Sue.
How Many Calls Does It Take?
Leaving Voice Mail Messages.
Sending Letters.
Always Keep ROI in Mind.
Hiring a Collection Agency.
CHAPTER 9 How to Dispose of Your Portfolio.
Don't Throw Away—Recycle.
Consider Other Auction Outlets.
Three Kinds of Loans.
Preparing Your Loans for Sale.
The Sales Process.
CHAPTER 10 Mental Checkup and Reward Time.
Attitude Boosters.
Make One Dollar.
CHAPTER 11 Get Better to Grow Larger.
The Stages of This Business.
CHAPTER 12 Where to Go from Here.
Bonus Materials.
Billionaire Business Systems.
Live Events.
GLOSSARY.
INDEX.
See More
Bill Bartmann created America's largest debt-buying and debt-collection company. Formerly a homeless high-school dropout, he has been listed among Forbes magazine's 400 wealthiest Americans and has twice been named National Entrepreneur of the Year by USA Today, NASDAQ, Inc. magazine, Ernst & Young, and The Kauffman Foundation.
See More