Extraordinary Leadership: Addressing the Gaps in Senior Executive Development
ISBN: 978-0-470-47990-2
400 pages
April 2010, Jossey-Bass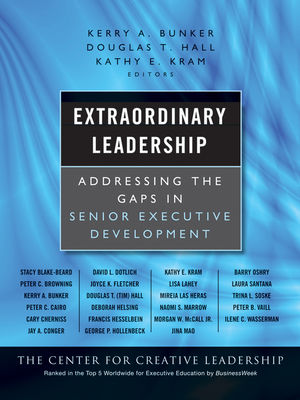 From The Center on Creative Leadership, comes an important that book helps to deepen the understanding of the subtle yet powerful gaps that separate successful managers from extraordinary leaders. Filled with tools, frameworks and processes that guide aspiring leaders (and those who mentor and support them) to begin filling those gaps. Topics covered include authenticity, credibility, emotional competence, social intelligence, developmental relationships, growth through connection, ability to learn, life stage development, and strengths overdone/fatal flaws. Offers wisdom from leadership experts including Jay Conger, David Dotlich, Peter Cairo, Lisa Lahey, and more.
See More
Preface.
About the Authors.
Introduction (Kerry A. Bunker, Douglas T. (Tim) Hall, Kathy E. Kram).
PART ONE: THE GAP WITHIN.
1 Views from the C-Suite (Naomi S. Marrow).
2 The Learning Premise: A Conversation with Peter B. Vaill (Peter B. Vaill, with Kerry A. Bunker and Laura Curnutt Santana).
3 Unlocking Leadership Potential: Overcoming Immunities to Change (Deborah Helsing , Lisa Lahey).
PART TWO: THE GAP BETWEEN.
4 Helping Leaders to Become Emotionally Intelligent (Cary Cherniss).
5 Leadership as Relational Practice (Joyce K. Fletcher).
6 The How-to-Be Leader: A Conversation with Frances Hesselbein (Frances Hesselbein, with Kathy E. Kram).
PART THREE: THE GAP IN THE SYSTEM.
7 The Not-So-Secret Sauce of the Leadership Development Recipe (Morgan W. McCall Jr., George P. Hollenbeck).
8 People in Context (Barry Oshry).
9 Leading Inclusively: Mind-Sets, Skills, and Actions for a Diverse, Complex World (Ilene C. Wasserman, Stacy Blake-Beard).
PART FOUR: THE GAP AT THE INSTITUTIONAL LEVEL.
10 Developing Leaders with Cultural Intelligence: Exploring the Cultural Dimension of Leadership (Laura Curnutt Santana, Mireia las Heras, Jina Mao).
11 The Shifting Paradigm of Executive Leadership Development: Moving the Focus to the Impact of the Collective (Trina L. Soske,  Jay A. Conger).
12 On the Other Side of the Divide: How Leaders Must Lead in the Post-Boom Era (Peter C. Cairo, David L. Dotlich).
13 Leadership in the Corner Office: The Board's Greatest Responsibility and Challenge (Peter C. Browning).
14 Looking Forward: Creating Conditions for Extraordinary Leadership (Kathy E. Kram, Douglas T. (Tim) Hall, Kerry A. Bunker).
References.
Index.
About the Center for Creative Leadership.
See More
Kerry A. Bunker is founder and president of Mangrove Leadership Solutions, an executive development firm specializing in improving organizational leadership and performance through senior executive learning and coaching. Prior to forming his current organization, he was senior fellow and manager of the Awareness Program for Executive Excellence at CCL.
Douglas T. (Tim) Hall is the Morton H. and Charlotte Friedman Professor of Management at the Boston University School of Management, director of the Executive Development Roundtable, and faculty director of the M.B.A. program. He is a core faculty member of the Human Resources Policy Institute. He is a former H. Smith Richardson Jr. Visiting Fellow at CCL and a former member of CCL's board of governors.
Kathy E. Kram is professor of organizational behavior at the Boston University School of Management and Everett Lord Distinguished Faculty Scholar. She is a former member of CCL's board of governors.
See More
Buy Both and Save 25%!
Extraordinary Leadership: Addressing the Gaps in Senior Executive Development (US $115.00)
-and- Discovering the Leader in You Workbook (US $32.50)
Total List Price: US $147.50
Discounted Price: US $110.62 (Save: US $36.88)
Cannot be combined with any other offers. Learn more.
More in this series