Fedora 11 and Red Hat Enterprise Linux Bible
ISBN: 978-0-470-48504-0
1128 pages
July 2009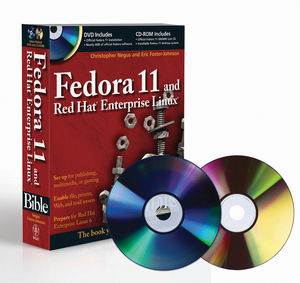 The leading Fedora book-over a quarter of a million copies sold of previous editions!
What better way to learn Fedora 11 than with the leading Fedora book from the best-selling Linux author, Christopher Negus with Eric Foster Johnson? Whether you're new to Linux or an advanced user, this power-packed guide is loaded with what you need. Install, run, and manage the latest version of Fedora and Red Hat Enterprise Linux-then polish your system administration skills and get up to speed on the very latest in networking, desktop, and server enhancements.
Master the Linux shell, file system, and text editor; how to set up users and automate system tasks; and much more in over a thousand pages of step-by-step instruction. Boot the full DVD of Fedora 11, including almost all binary code packages, or do a Live Install of the CD for rescuing, troubleshooting, or installing Fedora.
Fedora is a free, open source Linux operating system sponsored by Red Hat as an open source community project; the technological innovations from the Fedora Project are then implemented in Red Hat's commercial offering, Red Hat Enterprise Linux
Covers step-by-step instructions for making Linux installation simple and painless; how to take advantage of the desktop interface (including coverage of AIGLX); and how to use the Linux shell, file system, and text editor
Also covers setting up users; automating system tasks; backing up and restoring files; dealing with the latest security issues and threats; using and customizing the desktop menus, icons, window manager, and xterm; and how to create and publish formatted documents with Linux applications
The DVD and CD that come with the book include Fedora Linux 11 and an official Fedora 11 LiveCD (bootable and installable)
This is the book you need to succeed with Fedora 11 and Red Hat Enterprise Linux.
Note: CD-ROM/DVD and other supplementary materials are not included as part of eBook file.
See More
Part I: Getting Started in Fedora and RHEL.
Chapter 1: An Overview of Fedora and Red Hat Enterprise Linux.
Chapter 2: Installing Fedora.
Chapter 3: Getting Started with the Desktop.
Chapter 4: Using Linux Commands.
Part II: Using Fedora and RHEL.
Chapter 5: Accessing and Running Applications.
Chapter 6: Publishing with Fedora and RHEL.
Chapter 7: Gaming in Fedora and RHEL.
Chapter 8: Music, Video, and Images in Linux.
Chapter 9: Using the Internet and the Web.
Part III: Administering Fedora and RHEL.
Chapter 10: Understanding System Administration.
Chapter 11: Setting Up and Supporting Users.
Chapter 12: Automating System Tasks.
Chapter 13: Backing Up and Restoring Files.
Chapter 14: Computer Security Issues.
Part IV: Fedora and RHEL Network and Server Setup.
Chapter 15: Setting Up a Local Area Network.
Chapter 16: Connecting to the Internet.
Chapter 17: Setting Up a Print Server.
Chapter 18: Setting Up a File Server.
Chapter 19: Setting Up a Mail Server.
Chapter 20: Setting Up an FTP Server.
Chapter 21: Setting Up a Web Server.
Chapter 22: Setting Up an LDAP Address Book Server.
Chapter 23: Setting Up a DHCP Boot Server.
Chapter 24: Setting Up a MySQL Database Server.
Chapter 25: Making Servers Public with DNS.
Chapter 26: Integrating Fedora with Apple Macs.
Appendix A: About the Media.
Appendix B: Running Network Services.
Appendix C: Red Hat Enterprise Linux 5 Features.
Index.
See More
Christopher Negus
has been working with UNIX systems, the Internet, and (most recently) Linux systems for more than two decades. During that time, Chris worked at AT&T Bell Laboratories, UNIX System Laboratories, and Novell, helping to develop the UNIX operating system. Features from many of the UNIX projects Chris worked on at AT&T have found their way into Red Hat Enterprise Linux, Fedora, and other Linux systems.
Chris is the author of all editions of what started out as
Red Hat Linux Bible
, which because of the name changes of Red Hat's Linux projects has evolved into the book you are holding. Most recently, Chris co-authored multiple books in the Linux Toolbox series:
Fedora Linux Toolbox
,
Ubuntu Linux Toolbox
,
Mac OS X UNIX Toolbox
,
SUSE Linux Toolbox, and BSD UNIX Toolbox
(Wiley Publishing). Besides that, Chris authored
Linux Bible 2009 Edition
and co-wrote
CentOS Bible
,
Linux Troubleshooting Bible
and
Linux Toys II
for Wiley Publishing. Chris also authored
Live Linux CDs
and co-authored the
Official Damn Small Linux Book
, as part of the Negus Software Solutions Series.
Today, Chris works as a Linux instructor for Red Hat, Inc. and has achieved certification as a Red Hat Certified Engineer (RHCE) and Red Hat Certified Examiner (RHCX). At home, Chris enjoys spending time with his wife, Sheree, and his boys, Caleb and Seth. His hobbies include soccer, singing, and exercising with Sheree.
Eric Foster-Johnson is a veteran programmer who works daily with Linux, Unix, and Windows and other operating systems. By day, he writes enterprise Java software for ObjectPartners, a Minnesota consulting firm. He has authored and co-authored a number of Linux and Unix titles including Red Hat RPM Guide, Teach Yourself Linux, Teach Yourself Unix, and Perl Modules.
See More
Buy Both and Save 25%!
Fedora 11 and Red Hat Enterprise Linux Bible (US $59.99)
-and- Adobe Photoshop CS6 Bible (US $44.99)
Total List Price: US $104.98
Discounted Price: US $78.73 (Save: US $26.25)
Cannot be combined with any other offers. Learn more.