CompTIA A+® Complete Deluxe Study Guide: Exams 220-701 (Essentials) and 220-702 (Practical Application)
ISBN: 978-0-470-48648-1
1152 pages
October 2009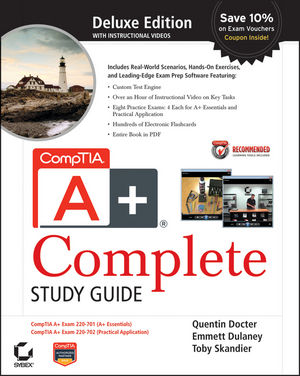 An arsenal of study aids for anyone preparing to take the CompTIA A+ certification exams
Written by a team of industry experts, this unparalleled study guide offers you a systematic approach to preparing for the CompTIA A+ certification, and includes real-world scenarios, hands-on exercises, challenging chapter review questions, plus a CD with Sybex's custom test engine to reinforce all of the concepts you learn.
This Deluxe Edition of the bestselling CompTIA A+ Study Guide features bonus practice exams, flashcards, and a bonus CD with more than an hour of instructional video of key hands-on tasks.
Covering all exam objectives, study guide focuses on the new best practices and places a strong emphasis on current software including Windows 7. Inside this guide you'll learn how to:
Identify and understand PC system components, including motherboards, processors, memory, and cooling systems.
Identify and understand storage devices, power supplies, display devices, and adapters.
Install, configure, and troubleshoot desktops, laptops, and portable devices.
Install, configure, and troubleshoot printers.
Install and configure operating systems including Windows 2000, XP, Vista, and Windows 7.
General troubleshooting theory and preventive maintenance.
Troubleshooting operating systems, hardware, printers, and laptops.
Install, configure, and troubleshoot networks
Set up and maintain network security
Master essential operational procedures for PC technicians
Communicate professionally with co-workers and clients
Updated Coverage Includes Windows 7 Topics
Download Windows 7 supplements for your exam prep including additional review questions, additional practice exam questions, and an updated objectives map from sybex.com.
Featured on the CDs
Over 600 Practice questions
Eight practice tests (4 for the 220-701, and 4 for 220-702)
Electronic flashcards
Entire book as a searchable PDF
More than 1 hour of instructional videos
Note: CD-ROM/DVD and other supplementary materials are not included as part of eBook file.
For Instructors: Teaching supplements are available for this title.
See More
Introduction xxix
Assessment Test lix
Chapter 1 Personal Computer System Components 1
Chapter 2 Storage Devices, Power Supplies, and Adapters 87
Chapter 3 Understanding Display Devices 133
Chapter 4 Understanding Laptops and Portable Devices 171
Chapter 5 Installing and Configuring Printers 205
Chapter 6 Operating System Features and Interfaces 257
Chapter 7 Installing and Configuring Operating Systems 329
Chapter 8 Troubleshooting Theory and Preventive Maintenance 391
Chapter 9 Troubleshooting Operating Systems, Hardware, Printers, and Laptops 441
Chapter 10 Understanding Networking 479
Chapter 11 Understanding Network Security Fundamentals 551
Chapter 12 Understanding Operational Procedures 593
Chapter 13 Installing, Maintaining, and Troubleshooting Hardware 649
Chapter 14 Installing, Configuring, and Troubleshooting Laptops 709
Chapter 15 Resolving Printer Problems 737
Chapter 16 Operating System Structures and Commands 769
Chapter 17 Operating System Utilities and Troubleshooting Issues 809
Chapter 18 Installing and Troubleshooting Networks 871
Chapter 19 System Security 927
Appendix About the Companion CD 991
Glossary 995
Index 1027
See More
Quentin Docter
, A+, MCSE, CNE, CCNA, SCSA, is an IT consultant with over 15 years of IT experience. He has written several books for Sybex, including books on A+, Server+, Windows, and Solaris 9 certifications, as well as coauthoring
Mastering Windows XP Professional
and
The Complete PC Upgrade and Maintenance Guide
.
Emmett Dulaney, A+, Network+, Security+, MCT, is an assistant professor at Anderson University. He has written several certification books and is coauthor of two of Sybex's leading certification titles: CompTIA A+ Complete Study Guide and CompTIA Security+ Study Guide. He is also a well-known certification columnist for Redmond magazine and CertCities.com.
Toby Skandier, A+, Network+, i-Net+, Server+, MCSE, CCNP, CCDP, CCSI, is founder of Talskan Technologies, LLC. He has coauthored several books for Sybex, including the bestselling Network Administrator Street Smarts and CompTIA Network+ Study Guide.
See More
Do you think you've discovered an error in this book? Please check the list of errata below to see if we've already addressed the error. If not, please submit the error via our Errata Form. We will attempt to verify your error; if you're right, we will post a correction below.
Chapter
Page
Details
Date
Print Run
1
51
Text correction: inaccurate description of Figure 1.33
The last sentence on the page, "Figure 1.33 shows the two sides of 16-bit RIMM module, including the aluminum heat spreaders" does not accurately describe the image in Figure 1.33.
It should read:
"Figure 1.33 shows a RIMM module, including the aluminum heat spreaders
10/29/09
1st
2
96
Text correction: Incorrect transfer rate given for optical drives
Under "Optical Drive Data Rates," the second paragraph contains inaccuracies. It should read:

"The standard DVD-ROM "1X" transfer rate is 1.3MBps, already nine times that of the comparably labeled CD-ROM. As a result, to surpass the transfer rate of a 52X CD-ROM drive, a DVD-ROM drive need only be rated 6X. DVD transfer rates of 16X are common."
10/29/09
1st
13
660
Clarification of discussion re: assigning SCSI ID numbers
In the last paragraph on the page, the second sentence, "You start by assigning your adapter an address." should read:
"You start by assigning your adapter an address, if necessary."

At the end of the same paragraph, a sentence was omitted that would clarify the sense of the last sentence. The rest of the paragraph should read as follows:
"This can be any number from 0 to 7 on an 8-bit bus, 0 to 15 on a 16-bit bus, and 0 to 31 on a 32-bit bus, as long as no other device is using that ID. An ID of 7 is always recommended for the host adapter. This ID has the highest priority for arbitration and therefore the host adapter will always take priority."
10/29/09
1st
Appendix
993
Correction to Appendix: About the Companion CD
Due to an error in editing, the "Electronic Flashcards" section mistakenly refers to Pocket PC and Palm versions of the flashcards. There are no such files on the CD.
3/26/10
See More
Learn more about