E-book
The Art and Science of 360 Degree Feedback, 2nd Edition
ISBN: 978-0-470-48669-6
320 pages
January 2009, Pfeiffer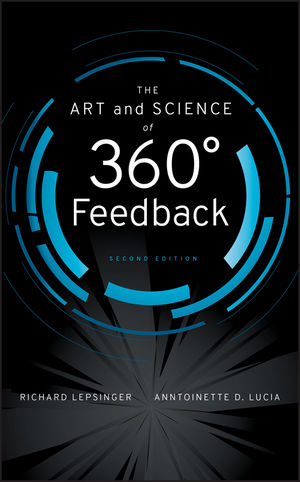 More and more organizations are using 360-degree feedback to provide an opportunity to talk about key changes. This second edition of the best-selling book includes research and information that more accurately reflects who is using 360-degree feedback and where and how it is being used. In addition, the authors incorporate information about the impact of advances in technology and the more global and virtual work environment. This new edition includes case examples, tips, and pointers on preparing 360-degree feedback and information on how to implement it.
See More
List of Exhibits ix
Preface xi
Acknowledgments xvii
About the Authors xix
Part One: Preparing to Use 360-Degree Feedback 1
1. The ABCs of 360-Degree Feedback 3
2. The Uses of 360-Degree Feedback: A Tool for Strategic Change 23
3. The Most Important Decision You Will Make: Choosing a Method for Collecting the Feedback 41
4. Using Interviews to Augment 360-Degree Feedback 69
5. Creating Champions: Selling the Idea to Others in Your Organization 95
Part Two: Implementing a 360-Degree Feedback System 115
6. Gathering the Feedback: Tips on Administering the 360-Degree Process 117
7. Holding Up the Mirror: Presenting the Feedback 145
8. Creating Lasting Change: Follow-Up Activities 177
9. Enhancing Performance Management Systems 203
Resource A: Examples of 360-Degree Feedback 227
Resource B: Checklist for Selecting a Questionnaire 273
Resource C: Sample Worksheets for Feedback Analysis and Interpretation 277
Notes 287
Index 293
See More
THE AUTHORS
RICHARD LEPSINGER is president of OnPoint Consulting. He is coauthor of three books, including Flexible Leadership: Creating Value by Balancing Multiple Challenges and Choices, The Art and Science of 360º Feedback, first edition, and The Art and Science of Competency Models.
ANNTOINETTE D. LUCIA is president of West End Consulting, Inc. She is the coauthor of two books, The Art and Science of 360º Feedback, first edition and The Art & Science of Competency Models.
See More