Making Money in Forex: Trade Like a Pro Without Giving Up Your Day Job
ISBN: 978-0-470-48728-0
240 pages
April 2010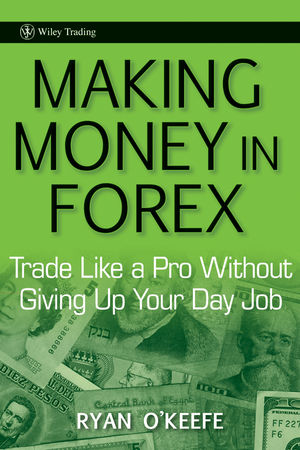 A practical guide to trading around the commitments of career and family
Making Money in Forex will help aspiring traders successfully enter this field while maintaining a job. With this book, author Ryan O'Keefe explains his own personal journey to becoming a trader and shows you how to follow a similar path.
O'Keefe describes his approach to trading and reveals his bargain hunting trading style, which is designed to capitalize on market trends. Throughout the book, O'Keefe pays a great deal of attention to trading psychology, learning to read price instead of indicators, and emphasizes that aspiring traders must find a strategy they are comfortable with and can implement with confidence.
Addresses how you can successfully trade around the demands of your job and personal life
Reveals the author's "bargain hunting" style which can be used to reduce risk and maximize profit
Discusses how common trade management techniques may impact overall performance
Provides insights into structuring trading to minimize stress
Written in a straightforward and accessible style, Making Money in Forex utilizes a conservative approach to trading that will help you build your trading competency over time.
See More
Preface.
Author's Note.
Acknowledgments.
CHAPTER 1 Exploring the Currency Market.
What Is Forex?
Forex Roots.
Forex Participants.
Forex versus Exchange Markets.
Trade Mechanics.
Order Types.
Margin and Leverage.
Earning Interest.
Selecting a Currency Dealer.
Closing Bell.
CHAPTER 2 Principles of a Bargain Hunter.
Live Your Life.
Learn to Read Price Action.
Never Pay Full Price.
Manage Your Risk.
Manage Your Profit.
Closing Bell.
CHAPTER 3 Reading Price Action.
Understanding Supply and Demand.
Identifying Support and Resistance.
Trading Price Action.
Closing Bell.
CHAPTER 4 Managing Risk.
Always Use a Stop Order.
Beware of Overtrading.
Reducing Your Transaction Costs.
Stop Thinking about Losses in Pips.
Managing Risk through Position Size.
Manage Risk Consistently.
Be Conservative with Trailing Stops.
Is Losing 70 Percent of Your Trades Bad?
Know When to Take a Break.
Closing Bell.
CHAPTER 5 Managing Profit.
Common Profit Management Techniques.
That Increase Volatility.
Identifying Profit Targets.
Identifying Profit Targets with Fibonacci Ratios.
Using Trailing Stops.
Automating Profit with Limit Orders.
Closing Bell.
CHAPTER 6 Bargain Hunting Along the Edge.
Determining Trends.
Identifying a Bargain Day.
Locating a Support and Resistance Zone.
Managing Risk.
Managing Profit.
Example Trades.
Closing Bell.
CHAPTER 7 Bargain Hunting with Price Action.
Identifying a Bargain Day with Price Action.
Managing Risk.
Managing Profit.
Example Trades.
Closing Bell.
CHAPTER 8 Bargain Hunting with the Commodities Channel Index.
The Traditional CCI Trade.
The Bargain Hunter's CCI Trade.
Managing Risk.
Managing Profit.
Example Trades.
Closing Bell.
CHAPTER 9 Bargain Hunting with Fundamental Data.
Why Trade News?
What News Is Worth Trading?
Which Currency Pair Should You Trade.
Understanding Market Reactions.
Trading a Fundamental Event.
Closing Bell.
CHAPTER 10 Achieving Consistency: Simple Steps Every Trader Can Take.
Stop Searching for the Holy Grail.
Fix Yourself First.
Are You Really Going to Earn 100 Percent a Month?
Consider Long-Term Trading.
Specialize.
Develop a Written Trading Plan.
Keep a Trading Journal.
Demo Trade Properly.
Closing Bell.
Afterword: The Final Closing Bell.
About the Author.
Index.
See More
RYAN O'KEEFE educates traders through his trading blog www.ryanokeefe.com. His blog is visited by over 1,500 traders a month and is dedicated to helping them learn to trade around their day job. O'Keefe speaks at trading seminars, hosts online webinars, provides one-on-one workshops, and writes a blog for www.fxstreet.com. He has been studying and trading the currency market for thirteen years. Today, O'Keefe trades from a quiet lake house around various interests.
See More
More in this series
Learn more about