Fortify Your Sales Force: Leading and Training Exceptional Teams
ISBN: 978-0-470-48866-9
352 pages
February 2010, Pfeiffer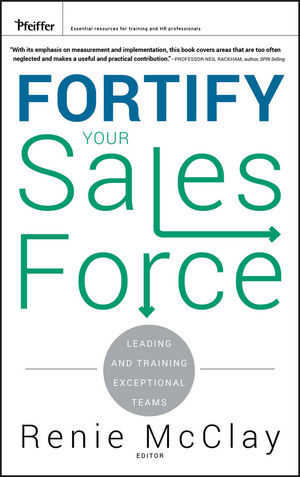 How can organizations provide the right sales training to the right sales people at the right time? This book is filled with a diverse collection of case studies from top companies and provides a practical road map and the proven tools for organizations that want to implement a winning sales training program. The book offers helpful techniques and tips on how to successfully execute sales training with limited resources and cut budgets. It provides how-to guidelines for successful sales training in a down economy. It is written by 13 experts who have experience selling and have managed sales people. The contributors have combined experience of improving sales performance of over 120 years.
The book contributors are Bob Rickert, Jim Graham, Teresa Hiatt, Michael Rockelmann, Maris Edelson, Susan Onaitis, Susanne Conrad, Rick Wills, Ken Phillips, Trish Uhl, Gary Summy, Lanie Jordan, and Renie McClay.
See More
Introduction.
Chapter 1 Invest in Your Salespeople Now (Bob Rickert).
Chapter 2 Winning Leadership Support of Sales Initiatives (Jim Graham).
Chapter 3 The Perfect Salesperson: A Guide to Building Your Dream Team (Teresa Hiatt).
Chapter 4 Develop Sales Reps Using Structured Feedback (Kenneth R. Phillips).
Chapter 5 So Many Choices: Determining the Right Solution (Mike Rockelmann).
Chapter 6 Capabilities: The Engine That Drives Success, by Maria Edelson
Chapter 7 Making Training Stick: Get Them to Use it (Susan Onaitis).
Chapter 8 Measuring the Impact: Did They Use it (Gary Summy)?
Chapter 9 Collaborative Partnership to Maximize Your L&D Investment (Susanne Conrad).
Chapter 10 Sales Managers: The Heavy Lifters in Training Salespeople (Rick Wills).
Chapter 11 Productive New Hires, Faster: You Don't Get a Second Chance to Make a First Impression (Renie McClay).
Chapter 12 "Raise the Roof" Sales Meetings (Lanie Jordan).
Chapter 13 Successfully Leading Virtual Sales Teams (Renie McClay).
Chapter 14 Media Mojo: Using Technology as a Survival Strategy (Trish Uhl).
About the Editor.
About the Contributors.
Name Index.
Subject index.
See More
THE EDITOR
Renie McClay has managed sales training for three Fortune 500 Companies, including Kraft, Novartis, and Pactiv (makers of Hefty). She spent 20 years in sales, account management, sales management, and sales training roles with Kraft. She has hired and managed sales teams and sales trainers. Her company, Inspired Learning, helps companies to design and deliver programs and curriculum for new and veteran sales people and sales management globally. Renie is a past president of SMT: Center for Sales Excellence and the author of Sales Training Solutions, 10 Steps to Successful Teams, and The Essential Guide to Training Global Audiences.
See More