Wealth Creation: A Systems Mindset for Building and Investing in Businesses for the Long Term
ISBN: 978-0-470-48868-3
178 pages
March 2010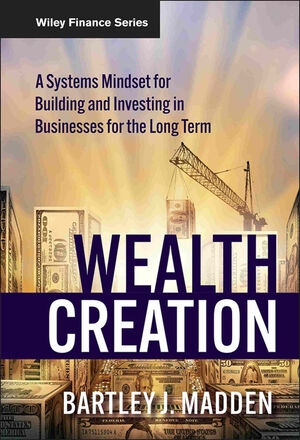 Wealth creation insights by the creator of the company life-cycle framework known as the CFROI valuation model.
Investors searching for companies whose future profitability will far exceed that implied in current stock prices, those in business making decisions to improve company performance, and politicians crafting legislation-all use some form of a wealth creation framework.
In this book, author Bartley Madden addresses how to think about the complex dynamics in generating wealth and the practical benefits to be gained from upgrading one's wealth creation framework. Throughout these pages, Madden shares six critical insights:
A systems mindset focuses not so much on the individual pieces of a system, but on how all the pieces work together to achieve the goal envisioned for the system. The systems way of thinking described in Wealth Creation helps to avoid unintended, bad consequences, and to generate insights for leveraging change that produces big gains in wealth

Economic systems -- the rules and relationships that exist to create wealth by delivering value to customers -- are devilishly complex and therefore solving economic problems requires extensive knowledge. Seen in this light, knowledge growth and wealth creation are two sides of the same coin.

A prerequisite to making better buy/hold/sell investment decisions and business judgments is an improved understanding of how wealth is created. An especially useful approach described in this book is to connect business firms' financial performance to stock prices via the firms' competitive life-cycle framework
A deeper understanding of business firms makes it plain that customers, employees, and shareholders have mutual, long-term interests. In other words, a free-market system geared to serving customers through competition is a system in which participants share the wealth that is jointly created
There is a huge opportunity for sustained, higher economic growth through voluntary initiatives by the private sector. One initiative involves an accelerated implementation of lean management, which was pioneered by Toyota. This is a systems approach that continually purges waste and optimizes the use of resources in delivering value to customers
The other initiative concerns improved corporate governance. The wealth creation principles discussed in this book offer a blueprint for boards of directors to vastly improve how they fulfill their responsibility to shareholders, and in so doing, improve the performance of corporate America
These ideas have taken shape as a natural outgrowth of a commercial research program that began in 1969 at Callard, Madden & Associates focused on how to value business firms. It produced the CFROI (cash-flow-return-on-investment) metric and its related life-cycle valuation model. This work was further advanced at HOLT Value Associates, which was later acquired by Credit Suisse in 2002. Credit Suisse HOLT continues the research to improve the valuation tools and related global database that analyzes 20,000 companies in over 60 countries. This system is used by a large number of institutional money management firms worldwide in order to make better investment decisions.
See More
Preface.
Acknowledgments.
Chapter 1 A Systems Mindset.
How We Know What We Think We Know.
The PAK (Perceiving-Acting-Knowing) Loop.
Purposes.
Perceptions.
Cause and Effect.
Actions and Consequences.
Feedback.
Knowledge Base.
Examples of Systems Thinking and Problem Solving.
High-Reliability Organizations.
Eli Goldratt, Business Theorist.
Colonel John Boyd, Military Theorist.
Correlation, Causality, and Control Systems.
Summary of Key Ideas.
Chapter 2 The Wealth-Creation System.
The Perception of Free-Market Capitalism.
The Housing and Credit Crisis of 2008-2009.
Government Regulation and Unknown Risks.
The Standard of Living.
Summary of Key Ideas.
Chapter 3 The Ideal Free-Market System.
Components of a Free-Market System.
Consumer Wealth, Producer Wealth, and Competition.
Efficiently Providing What Consumers Want.
Summary of Key Ideas.
Chapter 4 The Competitive Life-Cycle View of the Firm.
Competitive Life-Cycle Framework.
Firms' Competitive Life Cycles and Dynamism.
Company Examples.
Eastman Kodak.
IBM.
Digital Equipment.
Apple.
Bethlehem Steel.
Nucor.
Kmart.
Medtronic.
Walgreen Company.
Donaldson Company.
Life-Cycle Observations.
Summary of Key Ideas.
Chapter 5 The Life-Cycle Valuation Model as a Total System.
Efficient Markets versus Behavioral Finance.
Valuation Model Principles.
Measurement Units.
Forward-Looking, Market-Derived Discount Rates.
Problems with CAPM Cost of Capital.
Improving the Valuation Process.
Investor Expectations: The Wal-Mart Example.
Critical Accounting Issues.
Reply to Critics.
Summary of Key Ideas.
Chapter 6 Business Firms as Lean, Value-Added Systems.
Lean Thinking and PAK Loop Components.
Knowledge Base.
Purposes.
Perceptions.
Cause and Effect.
Actions and Consequences.
Feedback.
A Lean Transformation Example: Danaher.
Summary of Key Ideas.
Chapter 7 Corporate Governance.
A Systems View for Corporate Governance.
Corporate Governance Needs Repair.
A Standard of Performance for Boards.
A Successful Cultural Transformation Example: Eisai Co., Ltd.
Shareholder Value Review.
Valuation Model Selection.
Value-Relevant Track Records.
Business Unit Analyses.
Reply to SVR Objections.
SVR as an Evolutionary Process.
Summary of Key Ideas.
Chapter 8 Concluding Thoughts.
Benefits for Public Policy Makers.
Benefits for Business Managers.
Benefits for Investors.
Notes.
References.
About the Author.
Index.
See More
Bartley J. Madden is an independent researcher whose current focus is on market-based solutions to public policy issues, including FDA reform and corporate governance. In 1969, Madden cofounded Callard, Madden & Associates, where his research was instrumental in developing the CFROI (cash-flow-return-on-investment) valuation model that has become an integral part of the investment process for many large money management firms. He later managed portfolios for Harbor Capital Advisors. In the early 1990s, Madden joined HOLT Value Associates, a firm created to commercialize the CFROI valuation model worldwide. Madden retired in 2003 as a managing director of Credit Suisse, which acquired HOLT. He is the author of CFROI Valuation: A Total System Approach to Valuing the Firm.
See More