Wireless All In One For Dummies, 2nd Edition
ISBN: 978-0-470-49013-6
504 pages
December 2009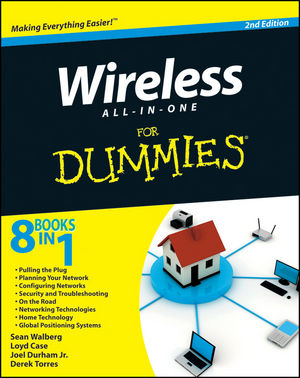 Link up, connect, or create a network-with no wires attached!
With such an amazing abundance of electronic devices available in our daily lives, wouldn't it be nice to eliminate getting wrangled by all those wires? With this guide by your side, a team of technical authors walks you through creating a network in your home or office-without the expense and hassle of stringing cable or paying a network administrator.
Eight self-contained minibooks answer your questions about wireless devices and wireless networks and address everything from hardware security to wireless hobbies and GPS. Clear, step-by-step instructions show you how to link your TV, computers, PDAs, laptops, TiVo, and sound systems to your wireless network.
Discover how to configure networks and create a completely wireless environment
Incorporate various hardware into your wireless network, such as notebook computers, handheld devices, sound systems, and printers
Tackle common security issues and best troubleshooting practices
Learn all the basics of wireless computing and how to make it work for you
With this book, it's easier than ever to to create an office or home network on a Windows platform. Don't be a bird on a wire-become a part of a wireless world!
See More
Introduction 1
Book I: Pulling the Plugs 7
Chapter 1: Living Without Wires 9
Chapter 2: Choosing Internet Access 17
Book II: Planning Your Network 21
Chapter 1: Getting Started 23
Chapter 2: Choosing Hardware 33
Chapter 3: Setting Up Routers 49
Chapter 4: Deciphering DHCP 63
Chapter 5: Installing Your Wireless Adapter 71
Chapter 6: Getting Your PC On the Net .85
Chapter 7: Setting Up Other Hardware .103
Chapter 8: Troubleshooting Network Hardware .121
Book III: Configuring Networks 137
Chapter 1: Exploring Windows Networking 139
Chapter 2: Managing Available Networks 147
Chapter 3: Creating Bridges 159
Chapter 4: Confi guring Printers 165
Chapter 5: Confi rming Your Network Works 171
Book IV: Security and Troubleshooting 179
Chapter 1: Looking at Internet Threats 181
Chapter 2: Using a Safety Net 195
Chapter 3: Protecting Your Computer 215
Chapter 4: Troubleshooting Network Problems 239
Book V: On the Road Again — But Without Wires 255
Chapter 1: Putting a Network in Your Lap(top) 257
Chapter 2: Connecting Wireless Devices to Networks 269
Chapter 3: Synchronizing Devices over a Network .279
Chapter 4: Picking a BlackBerry 293
Chapter 5: Finding Wi-Fi Hotspots 303
Chapter 6: Setting Up a VPN Connection 315
Chapter 7: Taking Home with You 325
Book VI: Other Networking Technologies 333
Chapter 1: Choosing and Using Cordless Phones 335
Chapter 2: Picking Peripherals 343
Book VII: Wireless Home Technology 349
Chapter 1: Entertaining Yourself Wirelessly 351
Chapter 2: Streaming Digital Music in Your Home 357
Chapter 3: Networking Your Television: From PC to HDTV 369
Chapter 4: Listening to Music and Audio from the Web 383
Chapter 5: Exploring Digital TV and Satellite Radio 393
Chapter 6: Exploring the Kindle 407
Book VIII: The Global Positioning System 417
Chapter 1: Getting Uncle Sam to Ante Up 419
Chapter 2: Finding Your Way in the World 431
Chapter 3: Exploring with the Rest of GPS 443
Glossary 453
Index 461
See More
Sean Walberg
manages the national network of a financial services company.
Loyd Case is Editor for the ExtremeTech technology Web site.
Joel Durham Jr. is a freelance writer and former tech editor of PC Gamer magazine.
Derek Torres is a technical communicator, author, and Microsoft registered partner.
See More