Designing the Smart Organization: How Breakthrough Corporate Learning Initiatives Drive Strategic Change and Innovation
ISBN: 978-0-470-49067-9
352 pages
October 2009, Pfeiffer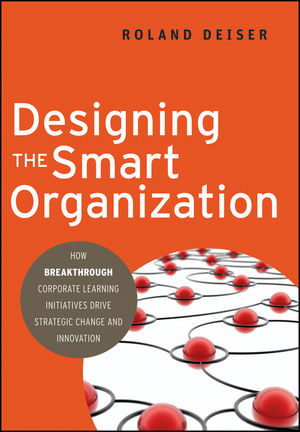 Filling a gap in the literature, this book offers an innovative interdisciplinary approach to learning for corporate strategic development, linking the domains of strategy, organizational design, and learning. To demonstrate how this process drives the boundaries of the practice way beyond the established notion of simple training and management education, the book is filled with detailed case studies from leading global organizations, including Siemens, ABB, BASF, the US Army, PricewaterhouseCoopers, EADS, Novartis, and more. These studies reveal how large-scale corporations are using the power of dynamic corporate learning approaches to drive innovation, enhance cultural values, master post-merger integration, transform business models, enhance leadership culture, build technological expertise, foster strategic change processes, and ultimately increase bottom line results.
For any company that wants to compete in the 21st century, Designing the Smart Organization offers inspiring perspectives for integrating corporate learning as a core business practice that will create sustainable strategic and organizational capabilities.
See More
Figures and Exhibits.
Introduction.

Part One: Conceptual Foundation.

1 The Corporate Learning Imperative.

2 Enlarging the Framework of Learning.

3 The Integration of Learning with Business Processes.

4 Implications for the Corporate Learning Industry.

5 The Convergence of Strategy and Corporate Learning.

Part Two: Case Studies.

1 Innovating Learning Through Design and Architecture (Unicredit).

2 Top Executive Leadership Learning (Siemens).

3 Phoenix from the Ashes: How a Corporate Learning Initiative Reinvented an Ailing Business (ABB).

4 Healing Post-Merger Chasms: Creating Corporate Values from the Bottom Up (EnBW).

5 Designing Customer Centricity for Multiple Market Segments: The perspectives Project (BASF).

6 Transforming the U.S. Army Through an Informal Leadership Learning Network (U.S. Army).

7 The Executive Hero's Journey: Going Places Where Corporate Learning Never Went Before (PricewaterhouseCoopers).

8 Managing the Strategic Asset of Cutting-Edge Technological Expertise (EADS).

9 Leadership Learning as Competitive Strategy in the Chinese Market (Novartis).

10 First Choice: The World's Largest Customer Focus Initiative (Deutsche Post DHL).

The Author.

Acknowledgments.

Index.
See More
Roland Deiser is the founder and executive chairman of the European Corporate Learning Forum (ECLF) and serves as a senior fellow at the Center for the Digital Future at the University of Southern California Annenberg School of Communication. He is an internationally recognized expert on strategy, organizational design, and innovation, with a focus on building strategic capabilities into large-scale systems. His professional work is strongly rooted both in both academia and practice.
See More
November 11, 2009
Designing the Smart Organization: How World Class Corporate Learning Initiatives Drive Strategic Change and Innovation
Connect with Wiley Publicity
"We live in turbulent times that are scary and exciting at the same time," writes Roland Deiser, author of Designing the Smart Organization: How Breakthrough Corporate Learning Initiatives Drive Strategic Change and Innovation (Jossey Bass, November 16, 2009). "It seems that the complex global system of interdependencies we've created over the past 100 years is suddenly cracking at the seams, creating massive concussions that reverberate throughout the world and challenge the very basis of our political and economic foundations."
Designing the Smart Organization accomplishes what few other books do—provide practical, actionable answers to how organizations can successfully navigate through and manage disruptive change, and create a robust design for sustaining industry leadership. "Without any qualification and only with heartfelt enthusiasm, this book should be read by every leader in every institution," declared the noted business thinker Warren Bennis.
Bridging the domains of strategy, organizational design, and innovation, Deiser makes a compelling argument about the importance of integrating novel ways of continuous learning into the very core of the DNA of an organization. With a fresh approach that is supported through groundbreaking case material, he turns the traditional view of corporate learning upside down and redefines it as the core engine of "strategic competence." Instead of aligning learning processes with business needs, he argues, smart organizations need to drive their entire business as a learning process, so they can harvest the learning and innovation potential that is inherent in their everyday business activities. His comprehensive framework reaches far beyond our common notion of learning; he emphasizes the interplay between cognitive, social, emotional, political, ethical, and actional dimensions, and he targets not only the well-known domain of people development but discusses specifically corporate learning designs for organizational excellence and strategic industry leadership.
To illustrate this new framework, Designing the Smart Organization features 10 highly detailed case studies about strategic learning initiatives from major global players such as Siemens, EADS/Airbus, ABB, Novartis, BASF, PricewaterhouseCoopers, Unicredit, EnBW and Deutsche Post DHL – as well as a stunning case from the world of the U.S. Army. Each story focuses on a common issue facing many organizations today and illustrates how that company successfully responded to this challenge by creating a unique and dynamic "learning response".
Designing the Smart Organization is a book for corporate leaders, managers, HR professionals, consultants, and everybody who has an interest in the multibillion dollar industry of corporate learning and development. With its unique cases it is also an ideal teaching source for undergraduate and graduate courses. To support college faculty in the use of the book, the publisher's web site offers an instructor's guide with case summaries, discussion questions, and additional authentic multimedia material from the organizations that are featured in the cases.
See More
Instructors Resources
Request a print evaluation copy
Contact us

See More
See Less