Microaggressions and Marginality: Manifestation, Dynamics, and Impact
ISBN: 978-0-470-49139-3
Hardcover
360 pages
July 2010
US $50.00

Add to Cart
This price is valid for United States. Change location to view local pricing and availability.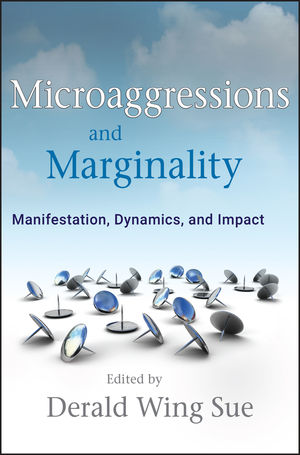 Other Available Formats:
E-book
Preface.
About the Editor.
PART I: MICROAGGRESSIONS AND MARGINALITY.
1 Microaggressions, Marginality and Oppression: An Introduction (Derald Wing Sue).
PART II: RACIAL/ETHNIC MANIFESTATION OF MICROAGGRESSIONS.
2 Black Undergraduates' Experience with Perceived Racial Microaggressions in Predominantly White Colleges and Universities (Nicole L. Watkins, Theressa L. LaBarrie, & Lauren M. Appio).
3 Microaggressions and the Life Experience of Latina/o Americans (David P. Rivera, Erin E. Forquer, & Rebecca Rangel).
4 Racial Microaggressions Directed at Asian Americans: Modern Forms of Prejudice and Discrimination (Annie I. Lin).
5 The Context of Racial Microaggressions Against Indigenous Peoples: Same Old Racism or Something New? (Jill S. Hill, Suah Kim, & Chantea Williams).
6 Multiracial Microaggressions: Exposing Monoracism in Everyday Life and Clinical Practice (Marc P. Johnston & Kevin L. Nadal).
7 Microaggressions and the Pipeline for Scholars of Color (Fernando Guzman, Jesus Trevino, Fernand Lubuguin, & Bushra Aryan).
PART III: OTHER SOCIALLY DEVALUED GROUP MICROAGGRESSIONS: International/Cultural, Sexual Orientation and Transgender, Disability, Class and Religious.
8 Microaggressions Experienced by International Students Attending U. S. Institutions of Higher Education (Suah Kim & Rachel H. Kim).
9 The Manifestation of Gender Microaggressions (Christina M. Capodilupo, Kevin L. Nadal, Lindsay Corman, Sahran Hamit, Oliver Lyons, & Alexa Weinberg).
10 Sexual Orientation and Transgender Microaggressions: Implications for Mental Health and Counseling (Kevin L. Nadal, David P. Rivera, & Melissa J.H. Corpus).
11 Microaggressive Experiences of People with Disabilities (Richard M. Keller & Corinne E. Galgay).
12 Class Dismissed: Making the Case for the Study of Classist Microaggressions (Laura Smith & Rebecca M. Redington).
13 Religious Microaggressions in the United States: Mental Health Implications for Religious Minority Groups (Kevin L. Nadal, Marie-Anne Issa, Katie E. Griffin, Sahran Hamit, & Oliver B. Lyons).
PART IV: MICROAGGRESSION RESEARCH.
14 Microaggression Research: Methodological Review and Recommendations (Michael Y. Lau & Chantea D. Williams).
About the Contributors.
Author Index.
Subject Index.