E-book
Energize Growth NOW: The Marketing Guide to a Wealthy Company
ISBN: 978-0-470-49369-4
240 pages
June 2009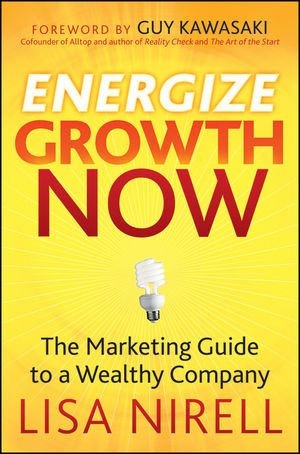 Praise for Energize Growth Now
"Effective, timely, balanced-this book captures the critical steps for growing a business the 'right way' and avoiding the usual pitfalls of a poor growth strategy."
—Stephen R. Covey, author, The 7 Habits of Highly Effective People and The Leader in Me
"Much like my experience at Apple, you will need to know when it's time to stop acting like a bootstrapper and start operating like a growth company. This book is a great resource to ease the transition. By applying these core principles and time-tested planning guides, you will have changed the world for the better."
—Guy Kawasaki, author, Reality Check and The Art of the Start, and cofounder, Alltop
"I wish I'd had access to this book's wisdom in the past. It's a wellspring of invaluable marketing ideas and wealth-building strategies business owners and management teams can-and should-use to take their companies where they need to go. There's no abstruse theory or hard-to-understand doublespeak here. Just actionable plans anyone can literally start using tomorrow. That makes Lisa Nirell the growth strategy guru for sustainable businesses."
—Jeffrey Hollender, President and Chief Inspired Protagonist, Seventh Generation
"Energize Growth NOW appears at an ideal time to provide small business owners with their rightful wealth, life balance, and peace of mind through great advice, easily applied. Lisa Nirell's advice is more important than any business plan you now have in place."
—Alan Weiss, PhD, author, Million Dollar Consulting
"Energize Growth NOW is simply a fantastic how-to guide for building a great company. Try the ideas in this book and not only will your business grow, but so will you!"
—Marshall Goldsmith, New York Times and Wall Street Journal #1 bestselling author of What Got You Here Won't Get You There and Succession: Are You Ready?
"In Energize Growth NOW, Lisa Nirell has written a smart, concise guide for business leaders looking to navigate growth successfully. The book provides valuable tips on how companies can grow better as well as bigger, and how leaders can create the kind of vibrant culture that's critical now more than ever."
—Ray Davis, CEO, Umpqua Bank, and author, Leading for Growth
"Lisa Nirell has captured the essence of what it takes to grow an entrepreneurial venture into a successful,sustainable enterprise."
—Jerry Andres, CEO, Jeld-Wen Development, and Chairman of the Board, Clear Choice Health Plans
"What's uniquely cool about Lisa's book is the way she interweaves values with financial success. Making big bucks without values smells. Having high values go unrewarded ultimately destroys beliefs. She keeps them together."
—Gary Sutton, author, The Six-Month Fix and Corporate Canaries
See More
Foreword by Guy Kawasaki.
Plug In.
Accolades and Gratitude.
1 Running on Empty.
2 Brains, Beliefs, and Growth Blunders.
3 Say No to the Good, and Yes to the Great.
4 Increase Your Wealth Quotient.
5 The Path to Planning.
6 The Inside Job.
7 What's on Your Dashboard?
8 Design Your Dashboard.
9 Plan Your Brand.
10 More Revenues, Fewer Clients.
11 Future Energy Sources: How to Grow Your Wealth Quotient with Social Media.
Appendix A: Sample EnergizeGrowth Plan.
Appendix B: Sample ProfitCents Report.
References.
About the Author.
Index.
See More
Lisa Nirell is a strategic growth expert, consultant, and keynote speaker, as well as the Chief Energy Officer of EnergizeGrowth LLC. An award-winning business columnist, she has written for San Diego's Daily Transcript, Computerworld, Custom Builder magazine, and Women in Technology. For more information and to download your bonus gifts, visit www.energizegrowth.com/egnow.shtml.
See More