E-book
20/20 Money: See the Markets Clearly and Invest Better Than the Pros
ISBN: 978-0-470-49372-4
304 pages
April 2009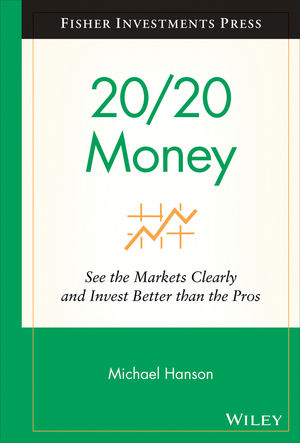 20/20 Money: See the Markets Clearly and Invest Better Than the Pros
To be a more successful investor, you need to see the investment landscape more clearly. 20/20 Money—from Fisher Investments Press—can help you achieve this goal.
Designed to help you think differently about your investing choices, this reliable resource addresses new ideas and challenges widely held conventions. With 20/20 Money as your guide, you'll quickly learn how gaining a firm understanding of various concepts—from stock market and systems theory to neuroscience and psychology—can help you begin making better investment decisions. Along the way, you'll also discover some of the most successful strategies for thinking and learning, and how they can be applied to your investing endeavors.
To become a better investor, you have to have the discipline to make tough choices—choices that may not always be in line with tradition or commonly accepted invested wisdom. But the approach outlined throughout these pages can help you gain the vision to begin making better-informed investment decisions.
See More
Acknowledgments xi
Introduction xiii
Chapter 1 Investing Is a Science 1
Apollo's Arrow Shot Crooked 2
Dionysus—More Than Just a Good Vintner 3
Use the Method, Not the Dogma 5
Careful with Categories 13
Could Math Be Wrong? 15
Reduction: Why You Can't Quantify Everything 19
Chapter 2 Investing Is a Discipline 27
Discipline, Discipline, Discipline 29
Sagacity: Seeing Isn't Believing 41
Understanding and Being Curious 48
Chapter 3 Human Behavior 51
Brain Basics 53
Brains on the Market 64
My, What a Terrible Memory You Have! 71
Bad Behavioral Finance 76
Behavioral Miscellany 79
Chapter 4 Sentiment and the Media 83
Sentiment Basics 85
News and the Media 90
What's Their Motive? 98
Tips and Tricks to Navigate the Media 100
Metaphors We Invest by 106
Chapter 5 How Stock Markets Really Work 113
Capitalism by Any Other Name 114
It's Complicated . . . A Crash Course in CEAS 118
The New Golden Rule 130
Oldest and Still the Best: Supply and Demand 139
Chapter 6 Forecasting, Part 1—The Principle of Probability 147
Forecasting Is Strange Alchemy 148
Types of Predictions 150
Probability Theory, or How Markets Are Nothing Like Coin Tosses 154
The Biggest Problem of Them All 163
Investing Lessons from Probability 165
Looking Ahead . . . 170
Chapter 7 Forecasting, Part 2 —Recognizing Patterns 173
A Pattern by Any Other Name 174
Stock Market Patterns 175
Patterns Through the Noise 179
It's a Game of Relative Expectations 181
Back to the Future: Using History to Find Patterns 187
Three Big Drivers 191
An Optimistic Note on Future Patterns 195
Chapter 8 Practical Portfolio Management 197
The Virtues of Heuristics 198
Goal Setting 199
Personal Goals 201
Portfolio Goals 205
The Top-Down Philosophy 210
Miscellaneous Heuristics 223
Chapter 9 The Nature of Risk and Navigating Markets in Troubled Times 229
Risk and Uncertainty 231
Financial Risk, or What Happens When You Assume 233
In Troubled Times 239
Parting Thoughts 253
Notes 255
Selected Bibliography and Further Reading 259
About the Author 269
Index 271
See More
Michael J. Hanson has been an investment banker as well as a stock analyst and is currently a senior editor and recurring columnist at Fisher Investments' MarketMinder.com. He has lectured on topics in money management at the Haas School of Business at the University of California, Berkeley, and speaks regularly throughout the country on a variety of topics, including capital markets and behavioral finance.
See More
More in this series