E-book
The Four Pillars of Retirement Plans: The Fiduciary Guide to Participant Directed Retirement Plans
ISBN: 978-0-470-49477-6
208 pages
May 2009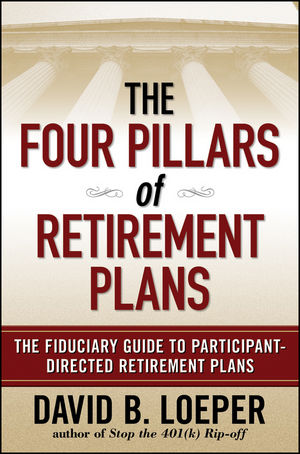 Praise for The Four Pillars of Retirement Plans
"This up-to-the-minute book shows how the Supreme Court's recent LaRue decision has reshaped the world of retirement plans. Rules governing fiduciaries of defined benefit plans may no longer protect fiduciaries of defined contribution plans and may actually harm them. The Four Pillars of Retirement Plans is indispensable for plan sponsors and other fiduciaries, and for all those advising them, including investment advisors and attorneys."
—W. Scott Simon, JD, CFP, AIFA, author of The Prudent Investor Act: A Guide to Understanding and Morningstar "Fiduciary Focus" columnist
"This book is a must-read for all plan sponsors, financial advisors, and ERISA attorneys if they have any hope of defending themselves from the mountain of litigation looming on the horizon for all participant-directed retirement plans and provides a road map to easily modify antiquated procedures born in the defined benefit era that contradict today's participant-directed retirement plans. Plaintiff's counsel is sure to have read this book; if you don't, you will be defenseless in these suits."
—Edward Siedle, Esq., "The Pension Detective" and President of Benchmark Financial Services, Inc.
"If you are a trustee, plan sponsor, or financial advisor serious about the retirement plan marketplace, you MUST read this book, or you will be ill-equipped to deal with the fiduciary meltdown non-readers will be facing."
—John Lohr, ERISA attorney and author
See More
Acknowledgments.
Introduction.
Part One: Pillars Made of Sand?
Chapter 1 The Four Pillars of Fiduciary Conduct.
Chapter 2 Pillar #1: Assets Are Invested for the Sole Benefit of Participants.
Chapter 3 Pillar #2: Minimize Risk of Large Losses.
Chapter 4 Pillar #3: Costs Are Reasonable for the Services Being Provided.
Chapter 5 Pillar #4: Diversifi cation Rule Applied to Participant Direction.
Part Two: Returns and Wealth Do Not Necessarily Go Hand in Hand—Emerging Fiduciary Standards.
Chapter 6 Exposing the Wealth Management Contradiction.
Chapter 7 Comparing Approaches—Managing Wealth versus Managing Return.
Chapter 8 Market Misbehavior: Over- or Underfunding Investor Goals.
Chapter 9 The Data: Seeing the Effect of Real Markets on Client Goals.
Chapter 10 Superior Results with True Wealth Management.
Part Three: Practical Solutions and Resources for Meeting Fiduciary Obligations.
Chapter 11 Safe Harbors that Are Unsafe (Particularly Section 404(C)).
Chapter 12 Tools and Resources for Fiduciaries.
Chapter 13 The Skill versus Luck Debate.
Summary.
Notes.
About the Author.
Index.
See More
David B. Loeper is the founder and CEO of Financeware, Inc. He has appeared on CNBC and Bloomberg TV, served on the Investment Advisory Committee of the $30 billion Virginia Retirement System, and was chairman of the Advisory Council for the Investment Management Consultants Association (IMCA). He earned the CIMA designation (Certified Investment Management Analyst) from Wharton Business School in 1990 in conjunction with IMCA. Loeper is also the author of Stop the Retirement Rip-off and Stop the Investing Rip-off, both published by Wiley.
See More