CliffsNotes Chemistry Practice Pack
ISBN: 978-0-470-49595-7
Paperback
360 pages
February 2010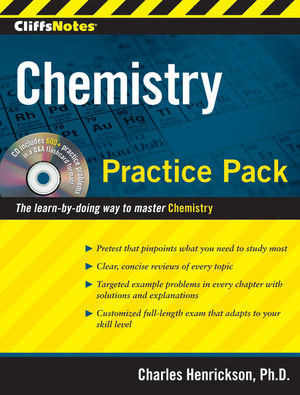 This title is out-of-print and not currently available for purchase from this site.
Pretest.
Chapter 1: Measurement and Units of Measurement.
Chapter 2: Matter: Elements, Compounds, and Mixtures.
Chapter 3: Atoms I—The Basics.
Chapter 4: Formulas and Names of Ionic Compounds, Acids, and Bases.
Chapter 5: The Mole—Elements and Compounds.
Chapter 6: Percent Composition, Empirical and Molecular Formulas.
Chapter 7: Chemical Reactions and Chemical Equations.
Chapter 8: Calculations Using Balanced Equations.
Chapter 9: Atoms II—Atomic Structure and Periodic Properties.
Chapter 10: Chemical Bonding—The Formation of Compounds.
Chapter 11: Gases and the Gas Laws.
Chapter 12: The Forces between Molecules—Solids and Liquids.
Chapter 13: Solutions and Solution Concentrations.
Chapter 14: Acids, Bases, and Neutralization.
Glossary.
Customized Full-Length Exam.
Index.