Sustainable Wealth: Achieve Financial Security in a Volatile World of Debt and Consumption
ISBN: 978-0-470-49658-9
Hardcover
257 pages
October 2009
US $29.95

Add to Cart
This price is valid for United States. Change location to view local pricing and availability.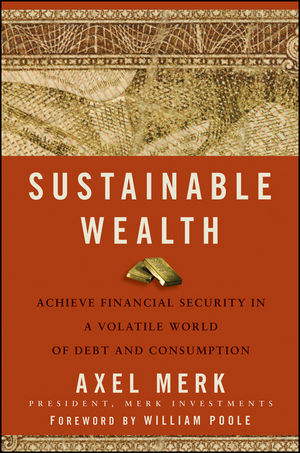 Other Available Formats:
E-book
October 26, 2009
Sustainable Wealth
Connect with Wiley Publicity
"Had Congress gotten this book before this financial crisis, we wouldn't be in this crisis. But alas, we are, and alas, there's hope. Axel Merk not only shows Washington the way out, but more importantly, the rest of us too. Not with a lecture, but a plan, and a damn good plan, without the bull and without the jargon. It's why I love this guy. He really means it when he says he's looking out for the rest of us guys. In Sustainable Wealth, he proves it."
- Neil Cavuto, Sr. Vice President and Anchor, Fox News Channel and Fox Business Network
You're a wealth builder. You work hard, and someday you want to have something to show for it. You want to send your kids to college, to plan an enjoyable retirement, to sleep comfortably at night, and to achieve financial peace of mind. You want to use debt prudently, if at all, and have the ability to do what you want—financially—in the best of times and the worst.
In Sustainable Wealth: Achieve Financial Security in a Volatile World of Debt and Consumption (Wiley; November 2009; 978-0-470-49658-9; $29.95), author and experienced fund manager Axel Merk helps you steer clear of the next financial crisis. Over the course of his successful financial career, Merk has led the way in identifying major economic trends before they occur. Most importantly, he has been a guiding light for investors and individual wealth builders to navigate economic crises like the recent global recession. Now, with Sustainable Wealth, Merk puts your financial decisions in a global context, showing you how "big picture" factors can influence your financial well-being.
Divided into two parts, Sustainable Wealth contains both contextual information and practical hands-on advice. In part I, Merk discusses the external dynamics that affect your finances. Here, he skillfully covers the temptations and vices of the modern economic system: credit, consumption, policy change, and complacency. Instead of being left scratching your head over the latest Fed decision, you'll learn how it affects your wealth and assets.
In Part II, you'll discover how to apply these lessons to your personal finances. Believing that we should each challenge conventional wisdom, he illustrates how to save, spend, and invest in a volatile world, providing clear, straightforward advice should you or the economy be faced with a crisis.
Filled with in-depth insights and practical advice, Sustainable Wealth:
• Reveals why "staying the course" when governments or markets change the rules may be hazardous to your wealth
• Coaches you on how to recognize major economic trends before they happen
• Offers a plan to spend, save and invest wisely in the face of an uncertain world, build a financial legacy and achieve peace of mind
As you read Sustainable Wealth, you'll quickly be able to both understand and adapt to today's erratic and rapidly changing markets. Financial peace of mind—that's what this book is all about.
Sustainable Wealth
By Axel Merk
Wiley; November 2009; $29.95
978-0-470-49658-9
About Wiley
Founded in 1807, John Wiley & Sons, Inc. has been a valued source of information and understanding for 200 years, helping people around the world meet their needs and fulfill their aspirations. Wiley's core business include scientific, technical, and medical journals; encyclopedias, books, and online products and services; professional and consumer books and subscription services; and educational materials for undergraduate and graduate students and lifelong learners. Wiley's global headquarters are located in Hoboken, New Jersey with operations in the U.S., Europe, Asia, Canada, and Australia. www.wiley.com