Handmade Beginnings: 24 Sewing Projects to Welcome Baby
ISBN: 978-0-470-49781-4
Hardcover
160 pages
May 2010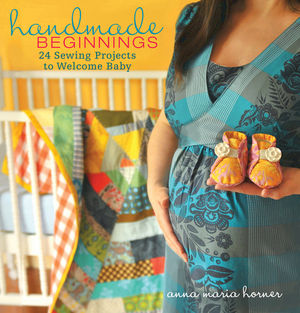 This title is out-of-print and not currently available for purchase from this site.
Introduction.
Introduction.
Chapter 1: Baby Steps.
Chapter 2: Mama Sewing.
Early Empire Cinch.
Thank You Notebook.
Flower Bed Slippers.
Four Corners Blouse.
Lingering Layers Skirt.
Here We Go Bag.
Mariposa Dress and Tunic.
Chapter 3: Baby Sewing.
Cute-as-a-Button Booties.
Quick Change Trousers.
Patchwork Sleeping Sack.
Pretty-as-a-Picture Dress.
Baby-in-the-Hood Jacket.
Chapter 4: Family Sewing.
Patchwork Welcome Notes.
Swaddled Baby Love.
Family Portrait Tree.
Dad Bag.
Center of Attention Quilt.
Chapter 5: Nest Sewing.
Nesting Cubes.
Henny Penny and Six Chicks.
Scrappy Nap Pillow.
Daydreams Mobile and Lampshade.
Writing on the Walls.
Hide and Seek Spectrum Quilt.
Sixth Time's the Charm Crib Quilt.
Index.