E-book
Value Based Health Care: Linking Finance and Quality
ISBN: 978-0-470-49812-5
250 pages
October 2009, Jossey-Bass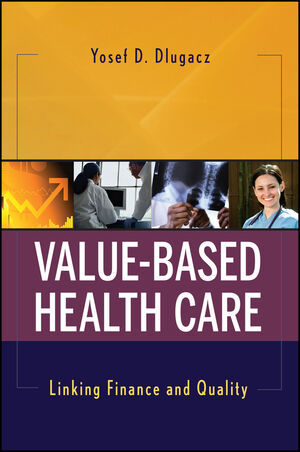 Value-Based Health Care
Linking Finance and Quality
Yosef D. Dlugacz
Value-Based Health Care?
Value-Based Health Care?concisely explains the mandate to successfully link health care quality and finance and describes the tools to implement strategies for organizational success. Yosef Dlugacz provides many illustrative real-world examples of process and outcomes of the value-based approach, taken from a wide range of health care settings. Perfect for students preparing to enter health care management or for practicing health care leaders and professionals, this book is a vital guide to approaches that ensure the health of patients and health care organizations alike.
Praise for Value-Based Health Care
"Value-Based Health Care provides leaders and quality experts with the much needed roadmap for linking cost and quality. This book will help your organization thrive in today's ultra-competitive environment."
—Patrice L. Spath, health care quality specialist and author of Leading Your Health Care Organization to Excellence and Error Reduction in Health Care: A Systems Approach to Improving Patient Safety
"Yosef Dlugacz provides an essential overview of how staff, administrators, and clinicians can create not just a culture but a gestalt of quality health care delivery. . . .given the national debate over access, cost, and quality, the book could not be more timely."
—Theodore J. Joyce, PhD, professor of economics and finance, academic director of the Baruch/Mt. Sinai MBA Program in Health Care Administration, and research associate, National Bureau of Economic Research
"Dr. Dlugacz's?case studies and action plans provide great insights and workable solutions to provide safe and effective patient care. It is a welcome resource as we sit on the?advent of health reform."
—Kathy Ciccone, executive director, Quality Institute of the Healthcare Association of New York State
See More
Figures and Tables.
Preface.
Acknowledgments.
The Author.
Introduction.
PART ONE: BASIC PRINCIPLES OF QUALITY MANAGEMENT
One: Drivers Of Change
Two: Improving Patient Safety
Three: Focus On The Patient
Four: Understanding Processes, Outcomes, And Costs
PART TWO: GETTING DOWN TO BUSINESS
Five: The Value Of Prevention
Six: The Cost Of Sentinel Events
Seven: Managing Expenses In A High-Risk Environment
Eight: Improving Communication And Establishing Trust
Nine: Promoting A Safe Environment Of Care
Conclusion
References
Useful Web Sites
See More
The Author
Yosef D. Dlugacz, PhD, is senior vice president and chief of Clinical Quality, Education, and Research, Krasnoff Quality Management Institute, a division of the North Shore–Long Island Jewish Health System.
See More