E-book
The Rudolph Factor: Finding the Bright Lights that Drive Innovation in Your Business
ISBN: 978-0-470-49857-6
192 pages
May 2009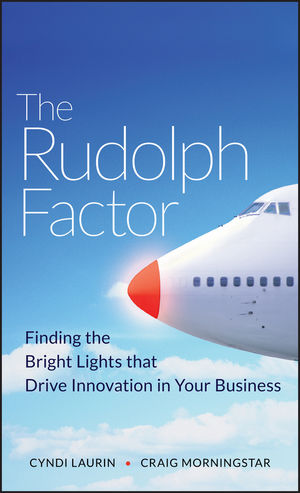 PRAISE FOR The Rudolph Factor
"Whether you're just starting a business or are a seasoned veteran, The Rudolph Factor provides the guiding light for continuously stimulating innovation.People are the key, and this is just the recipe for waking up the creative power within!"
—FRANK J. GRIMMELMANN, Chairman, TGG Holdings
"An insightful approach to unleashing the creativity residing in a diverse workforce."
—HARVEY SHREDNICK, former CIO, Corning Incorporated
"A must-have for every executive seeking business and career success."
—LINDA BAUGH, President of the award-winning American Career Executives®
"The Rudolph Factor is a guide for companies seeking success in an innovative age."
—JOHN GAUDELLI, Manager of Business Development, Homestore / Move.com
"A book that sets the new standard for creative and innovative thinking."
—DOUG NEWTON, Desert Sage Consulting and member of the Valley Advisory Group
"A must-read for every executive, manager, and employee who seeks innovation and business success, especially in today's challenging business environment."
—MARTIN R. NASON, Partner, B2B CFO, and former senior executive vice president, Vidal Sassoon, Inc.
"It's the operationalizing of the Four Pillars held in The Rudolph Factor that make this writing invaluable to virtually any organization who cares about optimizing the performance of their 'herd.' Cyndi and Craig clearly detail the whys and hows to move your workforce, currently centered around working with the body, to fully engaging their minds and hearts as well. An essential read."
—BRUCE CUMMINGS, VP Human Resources, Guardian Industries
See More
Acknowledgments.
Foreword E. David Spong.
Foreword David M. Bowman.
Preface.
CHAPTER 1 The Prevailing Form of Business Cultures.
CHAPTER 2 The Boeing Company and the Impetus for a Cultural Revolution.
CHAPTER 3 Why Rudolph, You Ask?
CHAPTER 4 Nurturing Rudolphs to Maximize Their Innovative Contributions.
CHAPTER 5 Establishing a Team-Based Rudolph Culture.
CHAPTER 6 Redefining Leadership.
CHAPTER 7 Developing a Corporate Constitution.
CHAPTER 8 Creating an Alternative and Aligned Reward Structure.
Epilogue Go Forth—Awaken the Rudolph Within.
Resources.
Index.
About the Authors.
See More
Cyndi Laurin, PhD
, is an author, international keynote speaker, and founder of Guide to Greatness, LLC. She specializes in process improvement and performance man-agement. She is also the bestselling author of
Catch!
Craig Morningstar is an experienced senior-level executive whose background includes positions at Southwest Airlines and Charles Schwab. He is also an entrepreneur who has founded, operated, and sold several companies.
See More