Advanced Thermoforming: Methods, Machines and Materials, Applications and Automation
ISBN: 978-0-470-49920-7
352 pages
June 2012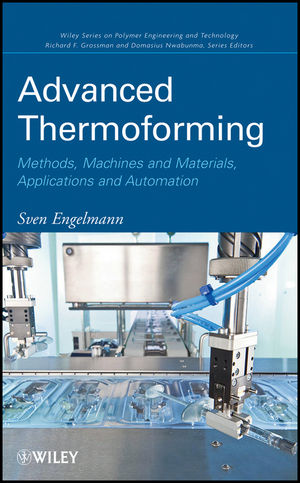 Introduces the latest innovations in thermoforming materials, processes, and applications
Advanced Thermoforming brings readers fully up to date with the latest standards, processes, materials, and applications in the field. From forming to filling to sealing processes, the author explains everything that can now be accomplished using the most advanced thermoforming technologies available. Moreover, readers learn how to fully leverage these technologies in order to design and manufacture products that meet all specifications at minimum cost and maximum efficiency.
Emphasizing the application of advanced thermoforming for the production of technical parts and packaging, the book:
Guides readers through all facets of development, design, and machine and mold technology

Recommends new technologies that offer higher productivity, better quality, and lower costs

Describes common raw materials used in thermoforming, including how specific materials affect the production process

Explains the proper handling of semi-finished products and formed parts

Sets forth the basic principles of extrusion, an essential process underlying thermoforming

Introduces the latest software techniques to simulate the thermoforming of new products
Throughout the book, readers learn about the latest innovations in thermoforming, from thermoformed automobile body parts to fully automated packaging assembly lines. The author offers valuable content from his interviews with leading industrial thermoformers, sharing insights and tips from their years of hands-on experience with readers.
With Advanced Thermoforming as their guide, polymer and plastics engineering professionals and students can now explore and exploit the full range of possibilities that thermoforming technology offers.
See More
Preface.
1. Introduction.
2. Basics of thermoforming and thermoplastics.
3. Production of semi – finished products, Extrusion and Coextrusion.
4. Introduction Technical parts.
5. Antenna Manufacturing.
6. Fueltank.
7. Automotive body and commercial vehicles applications.
8. Production of refrigerator liners.
9. Paintreplacement in automative applications, chrome optics.
10. Engine air intake PA 6 GF 15.
11. Sanitary equipment.
12. Thermoforming and milling of large parts.
13. Changeover sheet machines.
14. Chrome parts.
15. Applications in aircraft and mass transportation.
16. High quality and fully transparent products.
17. Multi – Deco – Molding.
18. Parts made form ABS + PA.
19. Softfeel.
20. Introduction Packaging.
21. A Method of optimizing a thermoforming process.
22. Analysis of thermoforming film and thermoforming results.
23. Automated packaging.
24. Production of flower pots.
25. Steelrule die punching.
26. Creation of anglehair in steel rule die punching.
27. Production of meat trays.
28. Multilayer Films in thermoforming applications.
29. PET in Thermoforming applications.
30. Thermoformed Packaging made of PLA.
31. Peel und Reseal.
32. Foampackaging PP and PS.
33. Blisterpackaging of Syringes.
34. Production of drinking cups.
35. Ultrasonic sealing and cutting in Thermoforming.
36. Understanding the brittle behavior of PS cups.
37. Pre – printed sheet for lid thermoforming.
38. Flexible Film.
39. Simulation.
40. Recycling.
41. Explanation.
Index.
See More
Sven Engelmann is the Director of Polymer Technology at Gerhard Schubert GmbH, where he leads the development of thermoforming technology. He is also a lecturer on thermoforming at the University of Stuttgart and the Aalen University of Applied Sciences in Germany.
See More
More in this series